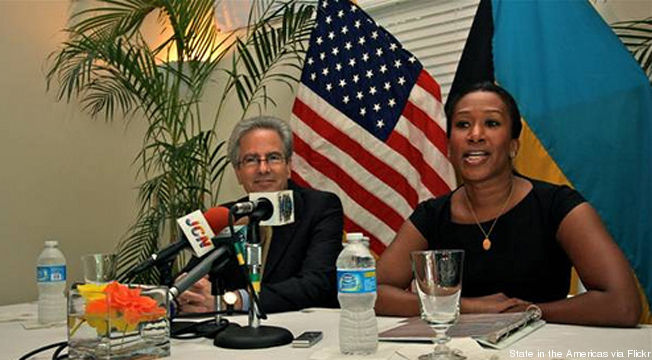 The last time we checked in on a big Obama donor who got appointed to an ambassador gig was when a State Department Inspector General report found the Ambassador to Luxembourg had made most of her staff spend their time finding her a temporary residence that met her standards, tried to be improperly reimbursed twice for a queen mattress she insisted on buying and left her staff so demoralized that some of her top staffers chose to go to embassies in war zones rather than continue to serve under her.
Now another State Department IG report examines issues with the leadership of Nicole Avant, who was an Obama fundraiser and served as Ambassador to the Bahamas from late 2009 until November of 2011. The new report released this week said that Avant presided over "an extended period of dysfunctional leadership and mismanagement, which has caused problems throughout the embassy."
As first reported by Josh Rogin, the report found that Avant was absent from the embassy for 276 days from Sept. 2009 through last November. That number included 102 "personal" days and 77 "work travel" days, but just 23 were on official orders.
Inspectors also found that many of the cables written in the past year "show little political reporting or analysis on international crime, drug smuggling, and illegal migration or on prevention of terrorism."
On the bright side, the report did find that Avant "has been active in promoting business education and development and "invited a music industry executive and former basketball player Magic Johnson to the Bahamas to speak to the Bahamian Chamber of Commerce."
Rogin notes that Avant has been active on the campaign trail since she resigned, joining Michelle Obama on Jan. 31 at a Beverly Hills residence "for a fundraiser along with her husband, Netflix Chief Content Officer Ted Saranados, and Jeffrey Katzenberg, Steve Bing, Quincy Jones, Harvey Weinstein, and other celebrities." She also attended a $35,800 per plate dinner on Feb. 15 with celebrities like George Clooney and James Belushi.