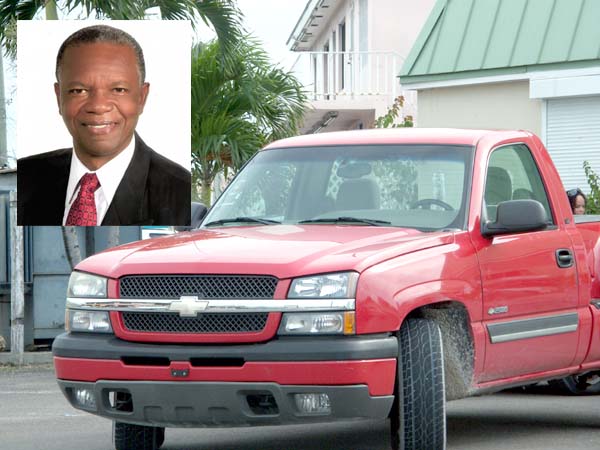 <<< Minister Earl Deveaux and his unlicensed red Chevy GMC Truck.
Bahamas Press over the weekend had received some serious footage of a minister in the government riding around the streets of Nassau in an unlicensed GMC truck. Yes on Saturday past whilst in the FML plaza near the village road round a bout, the great EARL of Marathon, Minister Earl Deveaux could be seen cruising on the street in an unlicensed truck with an expired plate (March 2009) in the village road area.
Now this is incredible. This is a member of the Cabinet of the Bahamas. This is an MP. He is a lawmaker [NOT BREAKER] in this country! WHERE IS THE EXAMPLE? Why in heavens name is there such LAWLESSNESS IN THIS COUNTRY! PAY YOUR TAXES EARL LIKE EVERY BODY ELSE AND LICENSE THAT RED TRUCK IF YOU WANT TO RIDE ON OUR ROADS!
By now people reading BP would know, lawlessness is one thing that sickens us to the bone. On Friday night a cruise to the Potter's Cay Dock area painted another picture of how LOW the Bahamas [Nassau in particular] has sunk. Now the crowd was THICK under the bridge. Plenty people were out there enjoying the climate. And three officers were visible near the entrance of the first turn under the bridge. One was a senior officer in brown tapping a black stick in his hand. Another was a women officer tapping her stick in rhythms to the music under the night. Both appeared to be keeping order. But the third officer was hidden behind one of the columns holding up the bridge. The heavyset officer could barely walk for his size. However the officer, IN FULL UNIFORM, was visibly smoking a JOINT! There he stood almost biting his fingers as his hands formed into the PLP crab symbol smoking away. He took his long inhale; then cast his head backwards as if he had reached the gates of St. Peter. We stood simply amazed by his boldness, and pondered on his complete disregard for his senior officers nearby. THIS IS AGAIN INCREDIBLE!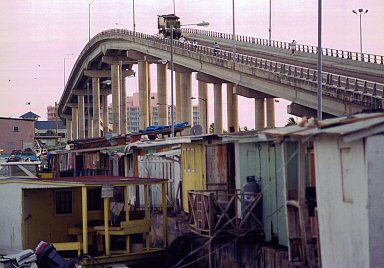 Now here's an officer who should be suspended immediately without pay until he can get his act together, and be an example to the hundreds of onlookers under the bridge. No wonder the young men licking gunshot at police these days. They have no regard or respect for such persons who bring the force this low state!
WE NEED CHANGE BAHAMAS, THE PEOPLE ARE BEGGING FOR CHANGE!