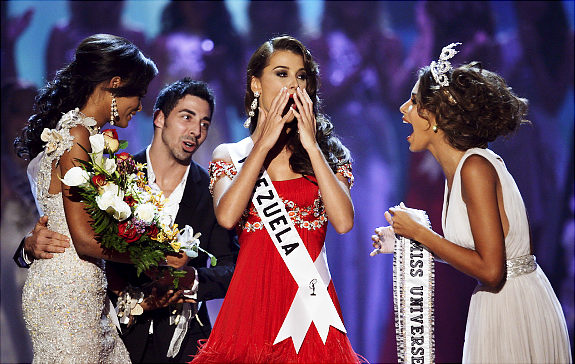 <<< Miss Venezuela Stefania Fernandez displays shock as she was crowned Miss Universe 2009 on Sunday. We all are also shock. Never did one billion viewers saw the NBC event BP reveals. Miss Universe 2008 Dayana Mendoza, also of Venezuela, right, at the end the Miss Universe beauty pageant in Nassau, Bahamas, Sunday, Aug. 23, 2009. Miss Dominican Republic Ada Aimee De la Cruz, left, was first runner up. (AP Photo/Andres Leighton)
Nassau, Bahamas — Bahamas Press is a fighter for TRUTH! We believe in telling like it is. Pulling the cover. Exposing the demons whether they are PLP or FNM. We are fair and balance and whenever we see THIEVES RAPING 'Da Cookie Jar' it is our job to expose them.
The Minister of Tourism and the Minister of Finance are two we have some SERIOUS questions for. We have serious questions for them because they keep telling us this lie, which suggested Bahamians got their money worth with the 2009 Miss Universe Pageant. No one INCLUDING HUBERT INGRAHAM will tell us how much of the taxpayer's money went to host and ready the country for the  event.
Almost every day Ingraham and his pageant goons BTC, ZNS, MOT, and the police couldn't stay out of the media telling us what was coming and how we need to behave. But now the show is over and its time to account, all The Muppets are gone into hiding. And no one wishes to tell us what The Bahamas spent to host the event.
Now we say this because Ingraham's government was the first to say $23 million for the straw vendors was too much to spend. They were the first to say $10 million was too much to give the nurses insurance. They said it cost too much money to send students abroad for a tertiary education. It was too much money to host Carifesta, which promoted to the world all the local young artisans in the 242.
Ingraham, the man who sat in Atlantis like a bullfrog in bow tie heard some from Kerzner say Miss Universe was coming here and that SELLOUT devil began to dole out the people's money. Where was the accounting? Who THIEF THE MONEY?
Tourism officials were all over the place saying 1 billion people will watch Miss Universe. They all did this to establish reason to spend millions of taxpaying dollars. For 9 minutes in a 2 hour show they said the world will be watching, "1 Billion people." Well, Bahamas Press has some friends who run NBC in New York and they tell us something that is near criminal and should land someone in Ministry of Tourism in a Fox Hill jail.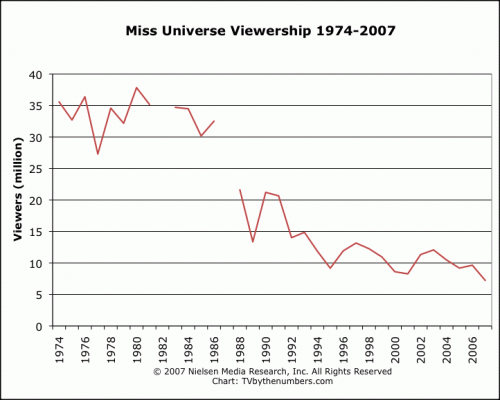 Tourism Minister Vincent Vanderpool Wallace, who pleasures in speaking fast and saying what Tourism needs to do, recently told the local press that The Bahamas received more publicity than officials had originally bargained for after an estimated "two billion people" from across the world tuned into the 2009 Miss Universe Pageant.
Tuesday, August 25th edition of the Nassau Guardian reported a senior manager, Janet Johnson, at MOT had this to say, "It was a very good event. People saw [Sunday] night on TV the extent of the publicity that was going out to billions of people all over the world." Lies and DAMN LIES!
Bahamas Press did call up our contact in NBC who pointed us to some shocking, SHOCKING online viewing numbers on the pageant. [CLICK TO SEE FOR YOURSELF] The event was carried exclusively by NBC around the world, yes that is true. But according to Nielsen Rating, only 5.84 million views watched televised event.
In its daily report to advertisers who follow with the agency assessment of shows Nielsen had this to say, "The 2009 Miss Universe Pageant averaged a 2.0/6 with adults 18-49 and 5.84 million as Miss Venezuela took the crown."
Nielsen confirms that like every year since 1974 the Miss Universe Pageant has had declining viewing audiences. From near 40 million viewers in 1974 to now just under 6 million viewers. In its 2008 report the rating agency was quoted as saying, "NBC suffered from a series of slip ups. Jim Cramer's broadcast prime-time American Dream, was hardly dreamy [note the second half drop off below], and the Miss Universe pageant ratings look to be following their long-term trend downwards, as Miss USA slipped again herself."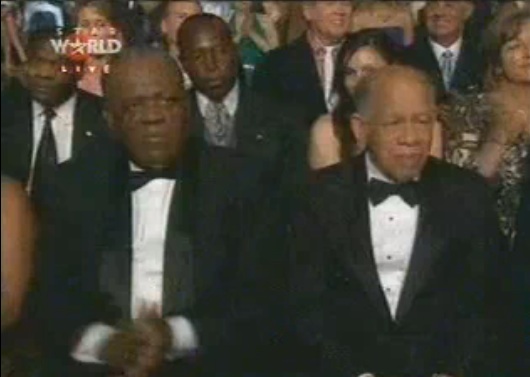 So why did the Ministry of Tourism speak such untruths to the people suggesting 1 billion people will watch the broadcast when they knew that was NOT the case? They must take Bahamians for fools? They possibly thought the WUTLESS MEDIA in this town would ever dig this deep? They forgot BP lurks around.
In May during a sitting in Parliament, Hubert Ingraham announced The Bahamas plans to host the 30th Miss Universe event. He noted then that the event would generate much needed revenue for the country's struggling tourism industry. However today scores of Bahamian are out of a job in the sector and more hotels are closing, three while the event was in town.
BP calls on the Prime Minister and Minister of Finance to ACCOUNT on what has happened with the people's money in respect to this Miss Universe event! or we would have no choice but to begin revealing the figures.
Was $100 million invested a good return for 9 minutes viewed by a disappointing 5 million people? WHY THE SECRECY? Where is the TRANSPARENCY? WHERE IS THE ACCOUNTABILITY? WHERE IS THE TRUST?