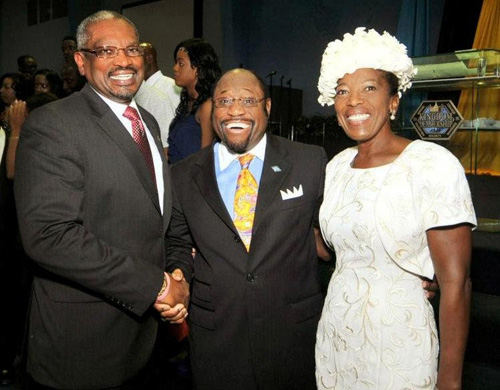 STATEMENT: On behalf of my wife Patricia and the Free National Movement family, I wish to express my deepest sympathy to the Bahamas Faith Ministries family on the tragic loss of my friend Pastor Myles Munroe and his wife Ruth, Dr. Richard Pinder, his long time colleague, Co-founder of BFM and Assistant Senior Pastor, Youth Pastor Lavard Parks, Captain Stanley Thurston and other colleagues accompanying him.
Tonight my heart is heavy and like millions around the world we are deeply saddened by this tragic loss of one of the worlds most noted spiritual leaders and teachers. This tragedy is both difficult to comprehend and accept but we know that Pastor Myles and his colleagues and family all enjoyed a deep and personal relationship with God and as such are resting in his arms.
Dr Myles Munroe is probably best known for his ground-breaking work on leadership and purposeful living. He was a world recognized teacher who traveled around the world Ministering to Christians and unbelievers. He gained a reputation as a leadership guru and was in high demand by governments and corporations internationally. He was an outstanding Ambassador on behalf of the Bahamas. Notwithstanding his international acclaim he was accessible to Bahamians and spoke at many local churches and events throughout the Bahamas. He periodically appeared on radio and television talk shows sharing his views on national issues from a Christian perspective.
In recent years he increasingly weighed in rather candidly on National issues seeking to exhort the nation and national leaders to speak and act in a way that was consistent with good governance and concern for the type of culture we were cultivating through our pronouncements, policies and laws. He was thoughtful and respectful in all his national debates and most importantly he was motivated by a deep sense of responsibility and love for Bahamians and nation building.
Pastor Myles Munroe rose from humble beginnings in Bain Town to international acclaim and respect. Along the way he distinguished himself in every area he ventured into. He was a dedicated and effective Civil Servant before entering into full time Ministry. He was the visionary behind Al and the Visionaires, a local gospel group that rose to national stardom. Their most notable hit was "Brand New World." He and Pastor Richard Pinder founded BFM and immediately attracted a cross-section of Bahamians. This Ministry has produced national leaders in business, politics, civics and other areas of our national life.
The Bahamas has been blessed because of the tireless and selfless work of one of our greatest sons. He was an author of many books, a number of which are international best sellers. He often remarked that we should die empty having produced all that God has birthed in us. No doubt the world will mourn with us here in the Bahamas. We deeply love Pastor Myles and will miss him but shall continue his work to empower others and share the Kingdom principles that undergirded everything he said and did. In the upcoming weeks the Free National Movement will find a more permanent way to remember Dr Myles Munroe. Until then we wish to remind the public of one of his most powerful and timely quotes, " The greatest tragedy in life is not death, but a life without a purpose."