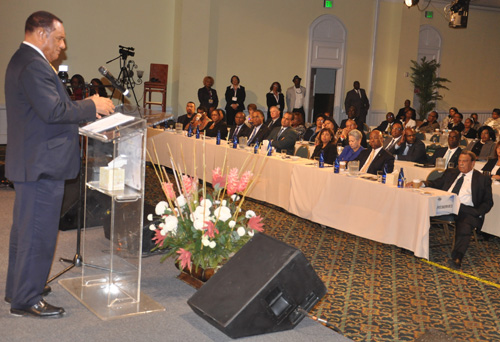 FREEPORT, Grand Bahama Island – Prime Minister of The Bahamas, the Rt. Hon. Perry G. Christie, told delegates of the Global Leadership Forum, Monday, "You have to trust God."
The Forum, being held at Grand Lucayan a Ballroom from November 10 to 13, opened despite the sudden death of the event's host, Dr. Myles Munroe when the plane on which he was travelling to Grand Bahama crashed at the Grand Bahama Shipyard killing all passengers on board.
Prime Minister Christie said he was saddened by the deaths of those on board the aircraft, and "It is utterly impossible to measure the magnitude of Dr. Munroe's loss to The Bahamas and to the world. He was indisputably among the most globally recognizable religious figures our nation has ever produced."
Known for his work in the Christian ministry globally, the Prime Minister described him as "a towering force who earned the respect and admiration not only of Christian adherents but of secular leaders both here at home and around the world."
He further stated, "Whether one agreed with him or not, there was never any question that Dr. Munroe was a man of deeply held principles who never hesitated to speak truth to power. He was regarded by a great many persons as the Conscience of The Nation. Certainly, he was among the most defining and influential spiritual leaders of the modern Bahamas and, I daresay, of the wider world of Christian evangelism as well."
Describing Dr. Munroe as a personal friend as well as spiritual mentor, the Prime Minister said Dr. Munroe was consulted on several important matters, most recently being the consultations with religious leaders on the pending constitutional bills.
Recognizing the difficulty faced by the Bahamas Faith Ministries church family, Prime Minister Christie urged the nation to hold them and those families directly affected by this tragedy in their thoughts and prayers. People, he continued, will look to those who worked closely with Dr. Munroe for answers as to how to "why we should lift up our heads and move forward with purpose tomorrow." People will want to know how they are going to speak to the families and find the explanation for God's purpose.
He told the delegates it is now time for them to step up because they don't have a choice, "you are the representatives of Pastor Myles and all that he taught. You have to be seen to personify those teachings."
To find the strength to do this, they must "trust in God," to which the Prime Minister received a round of applause. He said, "that's how I'm going to leave you. You have to believe that God has placed you in a position where the most defining experience you ever wish to have has taken place, and what you do now will always be driven by that experience."
Prime Minister Christie called Pastor Peter Morgan, president of The International Third World Leaders Association, to the podium. With his arm around Pastor Morgan, he said, it is in moments like these that people like himself watch religious leaders, and added — "The power of two is greater than the power of one."