Rebels proved they are not ready to lead nuttin! NO Mandate but to breakup da FNM!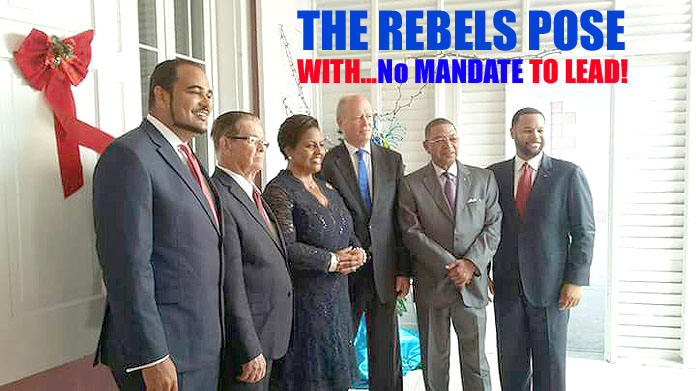 Nassau, Bahamas – THE first meeting of the select committee established to probe the sale of the Bahamas Telecommunications Company Ltd resulted in a no show from Official Opposition members yesterday.
Labour Minister Shane Gibson, who heads the committee, confirmed to The Tribune that the five-person panel has begun its charge to investigate, examine and inquire into the circumstances and facts relating to the privatisation of the company.
Committee members include South Beach MP Cleola Hamilton, and Tall Pines MP Leslie Miller, who are both members of the governing Progressive Liberal Party, and Montagu MP Richard Lightbourn and North Eleuthera MP Theo Neilly, who are members of the Free National Movement.
Mrs Butler-Turner, leader of the Official Opposition, was formerly named to the committee but replaced herself with Mr Neilly.
Mr Gibson explained that an email notifying all committee members of the upcoming meeting was sent by Maurice Tynes, clerk of Parliament, via email.
Mr Neilly advised the committee that he was travelling and could not attend, according to Mr Gibson, but there was no response from Mr Lightbourn.
Yesterday, Mr Lightbourn told The Tribune that he did not receive a notice concerning the meeting.
Last November, the government moved a resolution in Parliament to establish a select committee to probe the controversial sale to Cable & Wireless Communications.
Suggesting the 2011 sale was essentially a "give away", Mr Gibson called the decision to privatise the telecommunications provider "damaging," as he pointed to BTC's revenue generation abilities.
The Golden Gates MP was also adamant that some inconsistency might exist between the cost at which the then FNM government sold BTC and what CWC actually paid for it. BTC was sold to CWC for $210m, but Mr Gibson highlighted that in CWC's audited financial statement, the company said it purchased the company at a cost of $204m.
Mr Gibson previously maintained that he had no expectations regarding what the probe would find, adding that he was very "objective" with the process, and that he was "absolutely" sure the committee's work would be completed ahead of the election.
FNM Leader Dr Hubert Minnis has said the formation of the select committee is nothing more than a "distraction" from the country's real issues.
For her part, Mrs Butler-Turner has said based on the information that was brought before Cabinet under the last FNM administration, she knew of no malfeasance committed by the Ingraham administration.
However, she also admitted that one of the reasons the FNM government lost the 2012 election was due to the sale of BTC.