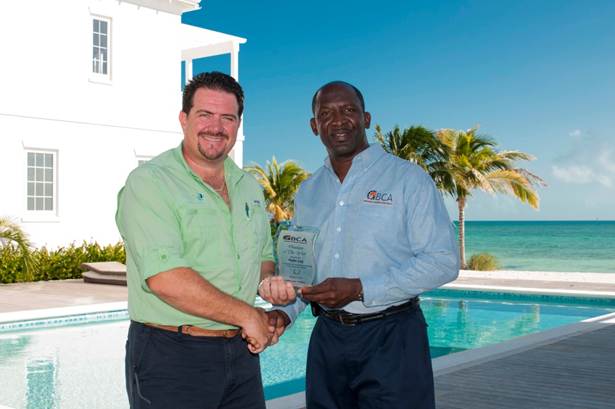 Nassau, Bah — Creating a new category to recognize outstanding development, the Bahamas Contractors Association this week presented the first ever Developer of the Year award to Palm Cay, the popular fully-funded $200 million, family-oriented community with marina on New Providence's southeast shore.
"Palm Cay has illustrated its commitment to creating opportunities for Bahamian contractors," said BCA President, Godfrey Forbes. "Palm Cay nudged out two other competitors to win this award which was created to recognize developers who allow Bahamians to maximize their potential and gain valuable experience."
The Bahamas Contractors Association has presented numerous other awards to contractors, but never before to a development as a whole. Forbes said Palm Cay had also raised its profile, keeping the public informed about its progress, including meeting self-imposed deadlines and remaining on schedule without compromising quality.
"We are extremely happy and thankful to be the first development to receive this award," said Sales and Marketing Director Zack Bonczek. "Since we introduced the new Palm Cay in March of this year with new offerings, our completed 194-slip marina, the lighted tennis courts and our active social calendar as well as sponsorships and our growing Bahamian staff, we've had so much interest shown." Friday night happy hours — on hold temporarily while the clubhouse is being converted into a restaurant – were drawing more than 100 people and Saturday family fun days with poolside lunches, casual volleyball games and other activities were just as popular.
Last month, Bonczek revealed that more than 70% of the single family lots in Palm Cay had been sold. Construction crews are now working on site preparation for the development's first condominium, phase 1 of The Anchorage.
With a complete build-out slated for 2017, Palm Cay is a secure marina community that includes townhomes, single family homes, one of The Bahamas' best beaches, three acres of parks and recreation, tennis courts and a restaurant that will seat about 160 between indoor and outdoor dining. Plans call for a 50-unit condominium and other residential and rental options. Palm Cay's full-service marina is the closest marina to the Exuma cays.