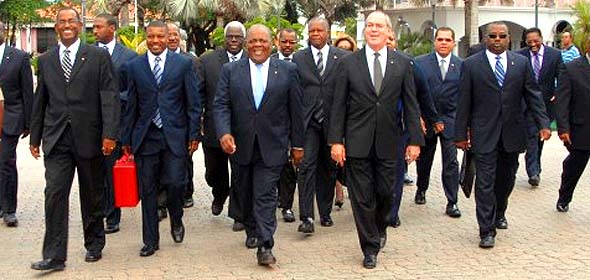 CLICK HERE TO READ THE 2011/12 National BUDGET STATEMENT
Prime Minister and Minister of Finance the Rt. Hon. Hubert Ingraham presented the 2011/2012 Budget Communication to Parliament, announcing a budget whose major emphasis is jobs and skills development.
Budget Highlights:
$25 million for the National Job Readiness and Training Programme – targeting 3,000 Bahamians for paid skills training for up to 1 year.
200 job openings in the Public Sector (100 for college graduates, 50 for high school graduates with BGCSEs and 50 for high school graduates with only BJCs)
Subsidies to private sector companies that hire unemployed persons.
Civil servant Increments to be paid and salary scales opened.
Small & Medium Sized business exempt from Business License Fees through 2012.
$1.5 million for the Jump Start Programme – Providing up to $7,500 to persons aged 30 and over to start their own businesses.
Duty reductions on food items.
A JOBS BUDGET – 2011/2012 Budget Communication from FNM Restoring Your Trust on Vimeo.