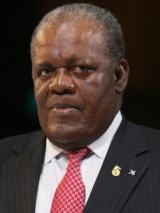 Abaco, Bahamas — Breaking news coming into our news desk confirms the Prime Minister Rt. Hon. Hubert Ingraham has just landed on the island of Abaco, where the nation chief is expected to spend the remainder of his vacation.
Sources in the position to know tell us the PM decided to return to the capital following issues intensified in the country while he was on vacation. Last week Monday the PM paid a visit to John Hopkins University Hospital in Baltimore, Maryland, no word from the Cabinet Office has come following that visit.
Sources in the OPM tell us the PM will be updated on the latest matters affecting the country and then at 8PM he will tune into a national address delivered by the Rt. Hon. Perry Christie.
"The Prime Minister upon hearing that address will then craft a response by his party, which will be issued to the press shortly afterwards," the OPM source said.
Christie is scheduled to go national around the country via a televised National Address tonight and will present the vexing issue of crime facing the nation.
Some 92 persons have been murdered in the capital for the year.