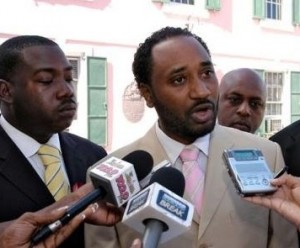 Papa is getting more and more desperate these days, and just minutes ago BP has learnt, leader of the BDM, Cassius Stuart, has been signed, sealed and delivered into the hands of the FNM.
Sources high up in the Apparatchik of the FNM tell us, "Papa has collected Stuart in his bran new bag, and an announcement of the new political marriage between the BDM and the FNM is slated for this afternoon."
We can tell you Stuart was offered some four seats including Bamboo Town, Clifton, Kennedy, and South Beach, all left abandoned by the FNM MPs.
Sources also tell us the Party is also in talks with Workers Party Leader, Rodney Moncur.
On politico observing the high drama unfolding today in the FNM said, "Stuart was recently downtown Bay Street less than a month ago protesting the sale of BTC to Cable and Wireless. How could a blockhead change his mind so quickly? This goes to show the kind of desperation that is set inside the FNM. They smell defeat, they see defeat and are already feeling defeated from within.