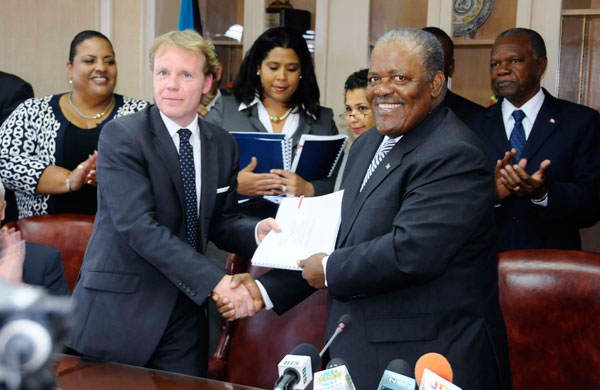 Letter to the Editor
Dear Bahamas Press,
The government released it's unemployment report on Friday and all I could do was shake my head! These bunch of seedy tambrine have the gall to tell me unemployment down!  Now watch and see how this greasy back government will spin this report. But some things jumped out at me as I read that report and I want to share that with you because I know our media will simply overlook it and not even bother to get clarification on some things contained in that report.
First off, the report was conducted in May and April of this year. Therefore this report should not be view as representing the current situation. The data is the most current, but it doesn't reflect the present situation. This data is already two and a half months old. Since they have compiled this data the labor market has already changed.
Not only that, but the data they are comparing May's data too, is 2 years old. There was no unemployment survey done in 2010. Why? Papa choose to divert the funds for the survey to the Census. So that dead right there.
On Friday, the USA released its unemployment report for July. They produce an unemployment report EVERY 30 DAYS. With a population over 330 million and a  work force of over 120 million they produce an employment report at the end of every month, without fail. Here in the Bahamas, with a population approaching 400 thousand, our government produces an unemployment report whenever the cock crows thrice?
If Papa don't think it's important, the monies for this exercise wont come. There is just no excuse for this. If the US can produce a report every 30 days, and their economy is way more diverse than the Bahamas', there is no reason why the government shouldn't have done this survey at least twice a year to get a better read on employment.  If Papa could find $5 million to pave the road for Miss Universe, then he could have found the thousands of dollars needed to do these surveys on a regular basis at a pivotal time in the country. It's called priorities and Papa is showing us all who comes first!
Secondly, when the government says unemployment is down from 14.2% in 2009 to 13.7% in 2011, keep in mind that subtly they are not pointing out that it took 2 years for the unemployment rate to drop 1/2 (half) a percent. That is an uninspiring 1/4 (quarter) of a percent decrease in unemployment since 2009. This is a very poor reflection on the FNM economic policies and shows their inability to successfully respond to a crisis that affects it's people. No wonder Zhivargo Laing has been quiet these last few months, he knows how poor a job he and his puppet master have done.
And then they have the gall to tell me "it's a matter of trust?"
Bahamas Press, in almost 5 years, the economy of the Bahamas has basically been on life support and the FNM has failed to attract foreign investment, implement policies that would have helped in the creation of local businesses. Entrepreneurship died under the FNM. Hubert Ingaham has forced the closing of more businesses, especially with these road works, and increase taxes more than any other Bahamian Prime Minister.
We put this man there to look out for us; all the while, the truth was some other people put him there to look out for them. I have never seen it this bad in the Bahamas. And what is so hurtful is that the government for 4 years wasn't interested in the plight of its people and now going into an election they want to roll out all kinds of programs and give out contracts like water? Where was these things 2-3 years ago?
If the addition of 3,000 people to the workforce a year for the past two years only manged to nudge the unemployment rate down by 1/2 (half) a percent, then you have some idea of the type of economic injection the country needs in order to put a serious dent in the unemployment rate. The government needs to create economic activity of such scale that will add at least 6-8,000 NEW JOBS A YEAR. Now imagine how much more bearable this recession would have been had Papa not stopped, reviewed and canceled so many projects when he took office? If some of those projects combined, provided an extra 1,000-2,000 jobs over the past 3-4 years, do you realize how much more bearable this recession would have been for thousands of Bahamians?
I tell you Bahamas Press, Hubert Alexander Ingraham's bad decisions has done more to harm us average Bahamians than help. I am convinced this man has been on auto pilot for the last 4 years and only snaps out of his coma when an election rolls around.
You have seen the stimulus that the Europeans and the United States employed 2 years ago. Where was the Bahamian stimulus? What has Papa done to even try to create 1,000 permanent jobs? While governments around the world tried to create some kind of economic activity on their own by build roads, bridges, schools, etc, here in the Bahamas, Mr Ingraham did nothing for the first two years in office and in years 3 and 4, he gave jobs to Jose Cartalones and to the Chinese to build roads, docks and bridges. Meanwhile the rest of us are on the side of the road, helplessly watching the foreigners get all the jobs and we as Bahamians ended up having to go catch crab.
And then they have the gall to look me in the eye and tell me "it's a matter of trust," put my X by the torch? I will put something else by that torch!
Think about this BP, this FNM government waited until election time to produce a jobs program. And what's so shameful is, hardly any of those persons who will be hired, will be made permanent. Those jobs are temporary and just how Papa fired all those contracted and temporary workers when he took office in 2007, Perry Christie will have the right to do the same when he takes office in a few months as Hubert has already set precedent. The very same thing he accused Perry of doing, Papa is now knee deep in it.
Third, this report claims that unemployment in Grand Bahama has FALLEN 2% in 2 years. Now why they trying to bullsh** us with this. I bet if you go tell them Grand Bahamians that their employment improved over the last two years ever so slightly, you will get lick with something. They better take that part out, lol. Why insult Grand Bahamians like that? To say something like that, man, you trying my faith!
Using the governments numbers, if there were 184,020 people in the workforce in 2009 and the workforce increased by 6,055 between '09 and '11, i don't understand how there could be a decrease in the unemployment rate when we have added about 14,000 high school graduates to the work force in that same 2 year period? Plus another several hundred college students coming home from college and graduating from COB. Bahamas Press, I think there is some voodoo and do do in this report.
Furthermore, this survey seems to have only been conducted in New Providence and Grand Bahama. If so, this report doesn't reflect what is going on in Abaco, Exuma, Long Island, Eleuthera, Bimini, Andros and the other islands. If unemployment in New providence is now pegged at 13% and is currently 15% in Grand Bahama, you know unemployment in those other islands have to be hovering near 30%. So they don't include the other islands because they know it will only make the unemployment number higher? If this is the case, the national unemployment rate has to be approaching 20%.
But Bahamas Press, this is the part of the report that had me scratching my head; the government says even though employment in the private sector decreased, employment in the "informal sector" increased substantially by some 4,410 persons and it is the increase in this sector that has caused the unemployment rate to drop 1/2 %.
Now hold on. I might not be the sharpest knife in the draw, but why is this group tabulated in the unemployment report? If your a "business person" who doesn't have a business license, don't pay National Insurance and have no kind of record keeping, the Labor department wants to include you in its report, lol. This is a joke Bahamas Press. The government doesn't survey businesses to see how much they hired or fired, or look at the National Insurance numbers to see if there is an increase or decrease in the number of people paying contributions. Oh no, the Labor Department goes out and talks to people, who by their label, are not legitimate, legal business persons and then turn around and includes that in a national document? Looks like the government is trying to find anyone who looks like they are doing something and marking them down as having a job.
Well, thanks to Google, I found some previous Labor Department reports and reading these reports and charts, they don't mention or list this "informal sector" at all. So why is the Department of Statistics including these people now? Is politics influencing their work? Someone is obviously trying to put lipstick on a pig. When you see your government doing things they don't normally do, it's called desperation. They are making up stuff now in an attempt to build themselves up before the election!
This unemployment report is not soemthing a government should be proud of. But what was Mr Ingraham expecting when his policies favored his party's special interests and foreigners over Bahamians?
Bahamas Press, they say Papa has a brand new bag. Well I hope so because the one he had for the last 5 years only had some sand, an old rusty fork and a piece of gum in it.
Wake up Bahamians, haven't you had enough yet? Hubert Ingraham and the FNM has failed you and the Bahamas!
Altec