50 years since Women Suffrage BRAVE WOMEN fight towards equality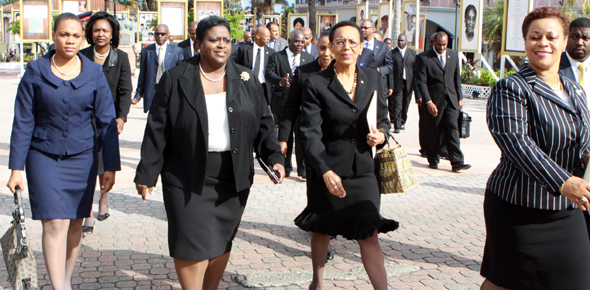 NASSAU, The Bahamas — Parliamentarians must not allow another five-year term of Government to pass without implementing the legislative and constitutional reforms needed to erase all forms of discrimination against women, Minister of Social Services and Community Development, the Hon. Melanie S. Griffin said Monday.
"This is not the time to squabble over bygones. We must move forward, upward and onward, together," Mrs. Griffin said.
Addressing a Joint Sitting of Parliament (both Upper and Lower Chambers met in the Lower Chamber) held Monday, November 26, to commemorate the 50th Anniversary of the Enfranchisement of Women in The Bahamas, Mrs. Griffin said despite the many successes attained by Bahamian women since November 26, 1962, there are still "many rivers to cross, many miles to go before we rest."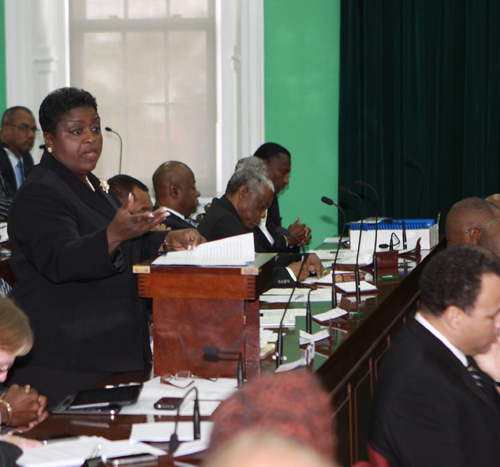 "Like the pioneers of the Movement, we must put aside our differences and run with the baton to the next level," Mrs. Griffin said. "It is indeed our time now and we must not be slack in our opportunity. God has provided this movement in time to give us a new awakening."
Mrs. Griffin said there are many other women's rights issues that need to be addressed within the Commonwealth of The Bahamas including matters relating to equal pay, poverty and greater participation in the political leadership and decision-making process within the country.
"We still, by the way, comprise 50 per cent of the population just as we did in the days of the Movement," Mrs. Griffin said. "In the last General Election, 10 per cent more women than men registered to vote. We have to find a way to convert this statistic into increased participation by women in politics.
"It is our season now. What are we going to do about it? We must address the issue of equal pay for equal work in the workplace once and for all. The ball is in our court. We must step to the line and address the issues of poverty and domestic violence that still plague many women," Mrs. Griffin added.
Mrs. Griffin read the names of the 13 women who were considered the Leaders of the Women's Suffrage Movement into the Records of both Chambers. They included Mrs. Mary Ingraham, Mabel Walker, Georgianna Symonette, Eugenia Lockhart, Dame Doris Johnson, Althea Mortimer, Mildred Donaldson, Willamae Saunders, Marion Stuart, June Stevenson, Dame Albertha Isaacs, Shirley Sands and Ethel Kemp.
"As we pay homage to these women today; as we, their daughters, read their names into the Records of this place from which they were denied access to the bar, and as we move this resolution to pay tribute to the bold and courageous Leaders of the Women's Suffrage Movement in this Joint Sitting of Parliament, let us never forget what they have contributed to this country.
"These women and their supporters from all walks of life, like the tide on the sands of time, refused to be held back in their quest to ensure that women from every nook and cranny of this island-nation we call The Bahamas could hold their heads up high and strut to the Polls to cast their votes for the very first time 50 years ago to date," Mrs. Griffin said.
"It is on their shoulders that every female politician – former and current – stands. It is on the foundation built by them that every female serving in leadership positions in every aspect of business, social, civic, religious and political life, stands. It is through their efforts that women throughout the length and breadth of The Bahamas can say that we have truly contributed to 50 years of nation-building," Mrs. Griffin added.