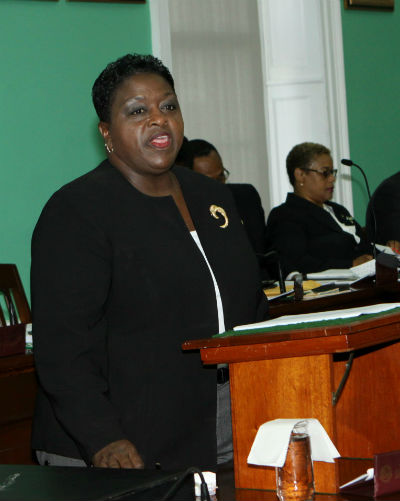 NASSAU, The Bahamas – The passage of the Persons with Disabilities (Equal Opportunities) Bill, 2014 (Short Title), will rank amongst the "most noblest of acts" of Parliament and the Commonwealth of The Bahamas, Minister of Social Services and Community Development, the Hon. Melanie Sharon Griffin said Wednesday.
Debate on the Bill began Wednesday morning, and the legislation was Passed unanimously by House Members in the afternoon. Free National Movement Deputy Leader, Loretta Butler-Turner spoke on behalf of the Official Opposition.
The legislation will impact everything from the equalisation of opportunities for persons with disabilities, to eliminating discrimination on the basis of disabilities, to providing rights, rehabilitation and habilitation of persons with disabilities and establishing a National Commission for Persons with Disabilities that will ensure that key components of the legislation are met.
"The passage of this Bill is indeed a dream come true for persons with disabilities, their parents, families, friends, caregivers and advocates because finally the light at the end of the tunnel does not seem far," Mrs. Griffin said.
"The issues of disability in The Bahamas are human issues. They are the issues of mothers and fathers and grandmothers and grandfathers and brothers and sisters who require the larger community to support the economic and social changes that will be engendered by this legislation.
"They are about making sure that our young people with special needs and women and men have equitable access to health clinics, to schools, to churches, to the workplace, to safe places where their physical or mental limitations are not hindrances to their growth, but challenges to be overcome."
Leading off the debate on: "A Bill for an Act to Achieve Equalisation of Opportunities for Persons with Disabilities; to Eliminate Discrimination on the Basis of Disabilities; to Provide Rights and Rehabilitation and Habilitation of Persons with Disabilities; to Establish the National Commission for Persons with Disabilities and for Connected
Purposes," Mrs. Griffin said the issues of persons with disabilities are not special issues, but issues that require special care.
Divided into 55 Sections and eight parts, the Bill addresses everything from the establishment of a National Commission for Persons with Disabilities which will be a "body corporate"; to employment opportunities, Education and Vocational Training, Housing, Accessibility and Mobility, Healthcare, Public Transportation, Legal Matters, Access to Public Buildings and Parking, Service Animals, Sports and Recreation and Voting.
The Bill will also impact local television programming, in addition to addressing other areas such as customs duty exemptions on goods donated to institutions for persons with disabilities and for the importation of vehicles to be used by persons with disabilities; credit, insurance and the concealment of persons with disabilities in such a manner as to deny such a person the opportunities and services under the Act.
Mrs. Griffin said while the Bill "is not a panacea," it is a giant step in the right direction."As we moved through the country for consultations, Mr. Speaker, enthusiasm was high, support was great and everyone (was) eager to assist in finally bringing the Bill to this point where it could be passed and provide a better quality of life for the large segment of our population that has been so disadvantaged for so long.
"Once the Bill is passed, the work will just begin, but we know that once we continue working together, particularly as we have been doing for the past several months, we will continue to get good results," Mrs. Griffin added.
Mrs. Griffin said officials at the Ministry of Social Services and Community Development held "extensive consultations" throughout the country and ensured that a draft was made available on the Government of The Bahamas' website and at the ministry's outreach centres in New Providence and the Family Islands to ensure an all-inclusive process.
Dialogue was also held with representatives from all segments of society, both public and private, to further strengthen that process.
"When crafting new legislation, it is very important to have a process that is transparent and inclusive," Mrs. Griffin said. "We held town meetings in New Providence (re-broadcasted on national television several times), Grand Bahama, Abaco and Exuma and met with the Bahamas Christian Council, the Bahamas National Council on Disability and with representatives of the Bahamas Chamber of Commerce and Employers' Confederation and dialogued with representatives of the insurance companies and clearing banks to ensure an all-inclusive process," Mrs. Griffin added.