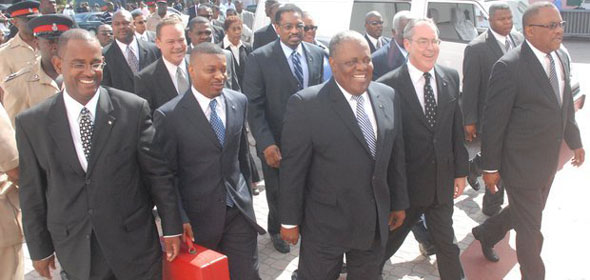 Nassau, Bahamas — Reports coming into Bahamas Press tonight suggest the Ingraham government cannot keep its word to Public Servants, and thus all the noise about pay increases will not come before school opens.
The move by the government is not good and according to workers in the OPM, its 'pay delay' decision will deliver a dangerous backlash to the outgoing Free National Movement Government.
Sources in the ministry of finance tell us, pay increases due to all public workers in July will now be deferred to October.
BP believes the payout is intentionally set before a November General Election.
"Communications were sent out to all departments informing them of the delay. Surely, we believe this is to allow the payout to be made just before a General Elections. However, the Ingraham government should note, there is no way this will sit well with the thousands of public officers who have not had an increase in five years.
"In fact, we can see that in certain departments like Customs, salaries have been slashed under this administration and workers sent home; some branded as 'THIEVES' by the FNM!" a public officer in the OPM said.
"With this announcement, public officers will now have to rethink that vacation and others who planned for back to school would have to realign their budgets. Boy, a FNM promise is truly a comfort to a fool!"
BP has been advised only eligible public officers who are due an increment may receive such at the end of July pay period.
Sources also say, no announcement to promotions has yet been handed down from the Cabinet. Promotions for scores of public officers have been delayed for years. Only a relative of the Prime Minister has been promoted within the public service.
However, according to an irate public officer in the ministry of health, "This FNM government isn't worth horse manure. They rally us up about pay increase to juice up the budget all to make to make it sound good; all to body slam us down on the ground. Don't give me my money this month and boy…I will wash my hand like Pilate on the FNM."