Nassau, Bahamas — There are some people in this country that can only find their voices when the PLP is in power but goes surprisingly silent on issues under the FNM. Bahamas Press wonders where in the world are we headed as a country when we see this kind of double–talk piling up all over the place. Here some examples.
In a Sunday December 30th edition of an online newspaper in America called Target Market News two known voices in the Bahamas were quoted commenting on the fallout of the Bahamian tourism product. They both were addressing a conference. It was the 7th Caribbean Media Exchange on Sustainable Tourism (CMEx) in Nassau, Bahamas.
At the conference an American, Elinor Tatum , publisher of the New York Amsterdam News called on Caribbean tourist departments to get serious about the African American market and to redirect advertising and marketing spending to capture this burgeoning market. Her advice we believe was good. Tatum said 38.3 million African Americans in the United States spend $679 billion annually, almost $5 billion a year on transportation, travel and lodging.
"Yet when you look at the black press there is little to none advertising geared to them for travel to either the Caribbean, Latin America, Europe or Africa," she added.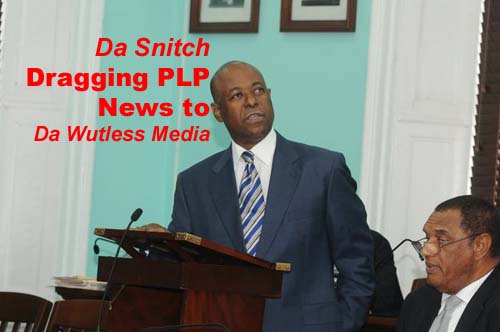 Why is this? Well we all know Obie Wilchcombe like the current minister, Vincent Vanderpool Wallace, was PLENTY TALK, which resulted in little action.
Tatum explained, "There are over 200 black newspapers across the United States and they are greatly untapped when it comes to actually reaching out with dollars," Her words in 2005 should have been a wakeup call to the Christie government. But here's where the story gets interesting.
Oswald 'Why You Scared of the WORD Murder' Brown was also a guest speaker at that conference. He
called on Caribbean governments to understand the strong cultural connection between black Americans, the Caribbean and the Bahamas. "My government in The Bahamas should start [with] full page ads in the New York Amsterdam News," he said as he called Christie to spring into action. Remember now the PLP was in power when he said this. And during this same time, Brown could be seen walking around Grand Bahama campaigning with his pen in his hand and wearing one RED 'Dingy' coloured T-shirt.
Also attending the conference was the well–spoken Basil Smith who today is still an employee of the ministry of tourism in Nassau. Smith shot the idea down altogether saying, "We are in business, not to attract African American tourists or to attract Caribbean tourists. We are in business to attract tourists who can pay a certain price … we are seeking the affluent traveller and it is fine if he is a Caribbean national."
Point taken in all this is that we should be advertising. Where we should be advertising is another matter but the fact established at the conference was that the country needed to accelerate its promotions in all markets. This you should remember was in 2005 under the PLP administration.
So could someone please tell Bahamas Press where was Oswald Brown when Hubert Ingraham stopped and cancelled advertising the Bahamas altogether in 2007? Where was his advising in that "Politically Correct" editorial for Ingraham in 2007? Why could not Brown nor Smith tell Ingraham and his 'pot cake' ministers to stop advertising to the world in 2007/08 was another BIG CALCULATED mistake?
Jamaica you would know never stopped it campaigns abroad and today they are reaping the benefits of that investment. They didn't experience fallout in tourism like the Bahamas.
The Jamacian Information Service in October reported despite the global economic crisis a record number of Canadian tourists are expected to visit Jamaica this winter.
"Canada is our fastest growing market," the Jamaican Information Service (JIS) quoted Jamaican Tourism Minister Edmund Bartlett saying in Toronto.
"Two years ago, the Canadian market was providing around 150,000 stopover visitors and for this year we are looking at close to 300,000, which represents a 28 percent increase over last year," he added.
Bartlett recently visited Canada to thank travel partners for helping to make Canada the fastest growing market for Jamaica.
He met with some 300 travel agents, airline officials and four operators in Edmonton, Calgary and Winnipeg, cities that have shown encouraging growth in recent times.
And so while we sit on our duffs, talking a bunch a you–know–what, the Bahamas is losing market share in tourism!
We say FIRE Vernae 'Doll Baby' Walkine, ignore 'Why You Scared of the WORD Murder' Brown and send that native name Smith back home. And that Christie wannabe, Vincent ' Plenty Talk NO RESULTS' Vanderpool Wallace should lead the exit parade.
WE NEED CHANGE!