Minnis government is allowing the pillaging and raping the country's national treasures!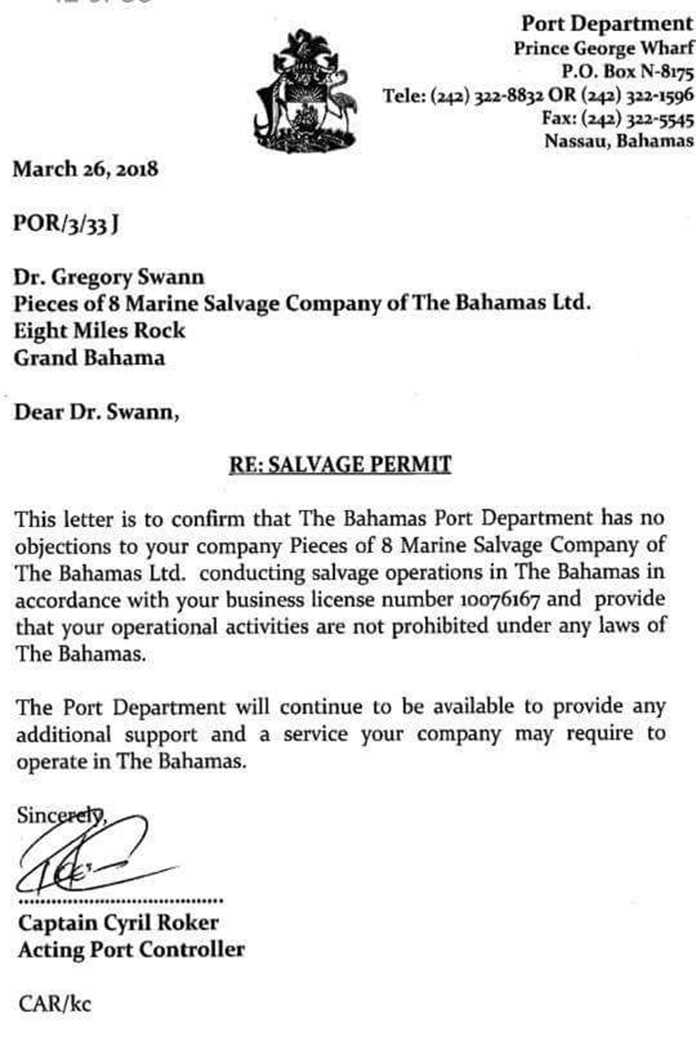 Nassau – Bahamas Press is the first news agency to report that 'Pieces of 8 Marine Salvage', a group known for searching for wrecks in the Caribbean, has been given a permit to explore waters in the Bahamas.
We are learning that a letter/permit signed by Acting Port Controller, Cyril Roker, has been issued to one Dr. Gregory Mann.
From our own investigations at Bahamas Press, it appears that one Don Cornish is an advisor to this company.
Now this is interesting because we at Bahamas Press know some things about Salvage companies coming into the Bahamas seeking to exploit our gold hiding for centuries under the sea.
1) We submit Acting Controller Roker has no such authority under the laws of the Bahamas to issue any such permit on behalf of the Government of the Bahamas. Such decisions rest within the ambit of the Cabinet, which is guided by the sound advice of the Antiquities Monuments and Museums Corporation's Board. They have, through its director, the Authority to advise the Bahamas Government on such permits.
2) For such activities to be approved the applicant exploring the salvage must specify specifically their area of search. Why is that not being spelt out in this permit application?
3) We also make this note for the Government reading this report. In all cases where an exploration for salvage is done, it is necessary to have Royal Bahamas Defence Force Officers onboard the salvage ship to verify the discovery [IF ANY]. Is that being done in this case to protect the interest of every Bahamian?
How is it people can just come in the Bahamas and be free to mine our treasures with a piece a paper? Why would officers of the government, who should be protecting the assets of the country, be seen in this letter granting a backside rape of our national treasures? And we at BP wonder if the Cabinet of the Bahamas has taken a note of this and are they prepared to act to defend the waters of our nation?
This is serious and, from our perspective, goes to the heart of what we all know as CORRUPTION!
We ga wait and see what they will do about this!
Mind you, this is the same crew, who broke conventions and allowed a signing of a 5.5 Billion Dollar Refinery to take place [twice] and not once invited the Office of the Attorney General to vet or examine the agreement! THE AG's Office was not even present at the Oban Energies February 19th signing. Can these people protect the place and defend the Bahamas for Bahamians?!
We report yinner decide!