Nygard recognized for his great work in the world!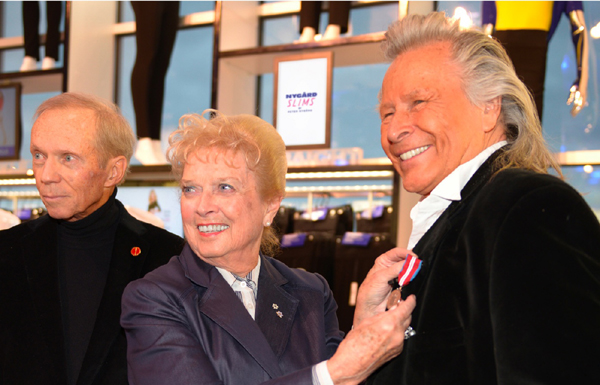 On Friday September 20th at the NYGÅRD Runway Ready fashion show, former Lieutenant-Governor Pearl McGonigal and Senator Rod Zimmer presented fashion designer Peter Nygård with the Queen's Diamond Jubilee Medal "in recognition for his philanthropic work raising money and awareness for cancer research and for his outstanding contributions to Canada and the Commonwealth.
This is the second time Queen Elizabeth II has bestowed this prestigious honour on Mr. Nygard in 2003 Queen Elizabeth II's awarded her Golden Jubilee medal, to Peter Nygard as someone who, during her reign "helped create the Canada of today, and to recognize Mr. Nygård for outstanding and exemplary achievement to Canada as a whole".
The fashion mogul is the Founder & Chairman of Nygård, Canada's largest ladies' wear manufacturer, and is a pioneer in the Canadian Fashion Industry.
Nygård offers beautiful fashions at various price points – something for every woman to enjoy. Nygård continues to 'raise the bar' in the standard of excellence for North America's Women's Fashion industry.
His story is a classic rags-to-riches tale – the Finnish immigrants' son, who stitched up an empire out of women's clothing and is now the quintessential self-made man.
Back in 1967, Mr. Nygård borrowed $8,000 to purchase 20 percent of a women's garment manufacturer with $800,000 in annual sales, which, within a few years, he owned outright.
Renaming it "Nygård" and saving it from near bankruptcy, Nygård International is worth more than $1 billion and the largest producer of women's apparel in Canada.
Though headquartered in Winnipeg, the company has been selling modestly priced women's wear in America for 30 years and is now in 30 states, including in many Dillard's stores.
While it was Nygård's good taste in fashion that helped his company to flourish, it was his remarkable entrepreneurship skills that made him one of the most distinguished businessmen in the world.
His work ethic includes an scrupulous attention to detail and 14 to 16 hour workdays, seven days a week. Nygård pioneered the synthesis of fashion and technology, creating a new standard for the industry that has proven unmatched.
And, although Nygård always seeks to push the limits of technological advancement, he's not above learning from his own mistakes.
When he invested $10 million and several years into an e-marketing campaign that proved cumbersome and ineffective, he cut his losses and began again. It's this dedication to quality service and innovation that's made Nygård International a benchmark for many others.
Nygård has since become one of the most influential names in fashion.
The company has expanded from a simple collection of pants and colored separates to a fashion repertoire that includes outerwear, swimwear, footwear, jewelry, accessories and soft home furnishings.
Nygård utilizes his wide breadth of influence to support the cause closest to his heart: breast cancer research. Through $2-million-a-year donations, the creation of an endowment fund at CancerCare Manitoba and a myriad of fundraisers to find a cure, Nygård has shown the world that the greatest wealth is giving back.