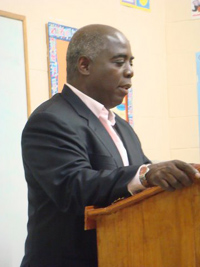 Mr. Philip "Brave" Davis, the Deputy Leader of the Progressive Liberal Party and Parliamentary representative for Cat Island, Rum Cay and San Salvador attended a lively Community meeting in United Estates, San Salvador, Friday evening, 11 March 2011. The meeting was chaired by Mr. Bernard Storr.
Mr. Davis was accompanied by Philip Smith, the former PLP MP for North Long Island, Rum Cay and San Salvador; former Senator Audley Hanna; Former PLP candidate for South Beach, Roger Minnis; Randy Rolle, Vice Chair, PLP; and, Dr. Prince Bonamy, former Director of Agriculture.
Mr. Smith offered remarks before the start of the conversation between the MP and his constituents.
The questions and comments from the floor were varied: ranging from concerns for the central government's maintenance or lack thereof of the island's infrastructure; the provision of government services to United Estates; environmental upkeep; Cable TV and internet to United Estates (Mr. Davis confirmed soon to come!); a library and computer center for UE and the high school; and, similar community interest matters.
The event part of Mr. Davis' ongoing process of "listening" to the concerns of citizens in the constituency, and throughout the country as the Party gets ready to win the next election and prepare itself for government which cares about concerns and needs of the people.