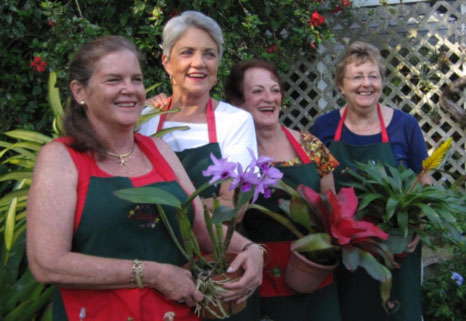 The Plant Ladies of Camperdown are back in action this year! All gardeners and plant enthusiasts in Nassau and the family islands know what a great sale is in store when the Plant Ladies of Camperdown put their gardening efforts into one of the largest, most popular plant sales of the year. This will be the sixth yearly sale and will be better than ever.
Sarah Lobosky's beautiful garden on Soursop Street in Camperdown will be the venue again, so mark your calendar as this year the sale will take place on Saturday, November 8th from 9am to noon.
This event began in 2008 when four ladies who reside as neighbors began to combine their gardening skills to produce a wide variety of plants. Cindy Wilde, Joanna Robertson, Alison Albury and Sarah Lobosky, themselves, all have beautiful gardens and continue to share their beautiful plants with other plant enthusiasts.
A stroll around the many tables at the sale will reveal a wide variety of hanging baskets, ferns, palms, orchids, bromeliads and other tropical plants including a tillandsia display, all of which will delight seasoned gardeners as well as beginners as the perfect place to acquire plants. As usual, there will be a bargain-basement area for plants $5 or less which is always popular. In addition, Cindy and Joanna are also offering specialty items such as pepper jellies, embroidered gifts and Christmas decorations.
The Camperdown Plant Ladies are always cognizant of the needs of the community, so this year part of the proceeds will go towards purchasing necessary items or equipment to help the Bilney Lane Childrens' Home.
Come on out, enjoy the morning air, and join us for free refreshments and a chance to buy some stunning plants. Gates open at 9 sharp. The early bird catches the worm!
Directions: Take Eastern Road easterly one mile past Fox Hill Road and follow signs; or, from Prince Charles Dr, go east from Blanco Bleach and follow signs.
The Plant Ladies of Camperdown display a few of the items for sale this year. L. to r. Cindy Wilde, Alison Albury, Joanna Robertson and Sarah Lobosky with some of this year's items.