Another New Generation Leader Rises to the TOP!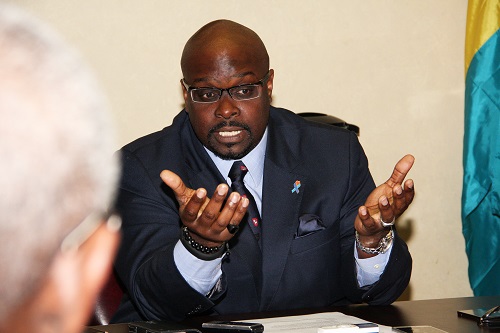 Another "New Generation Leader" put forth by the PLP has made history and has again made our country proud.
The Progressive Liberal Party congratulates the Minister of the Environment and Housing, the Hon. Kenred Dorsett, on his appointment to the chairmanship of the International Renewable Energy Agency (IRENA) on the 23rd May 2016 during its 11th Council Meetings in Abu Dhabi, United Arab Emirates.
In his newest assignment, Ken will represent The Bahamas in playing a pivotal intergovernmental role in offering policy, process, technological, financial knowledge on renewable energy and resource support to 147 countries around the world in their transition to a sustainable energy future.
The PLP joins all Bahamians in throwing our unreserved support behind this appointment and we are confident that Minister Dorsett will perform well in executing the policy mandates of IRENA.
Ken is also The Bahamas' representative as co-chair of the Caribbean Challenge Initiative Council with the Republic of Germany.
Ken joins other young new generation leaders such as Education Minister the Hon. Jerome Fitzgerald and State Minister for Finance the Hon. Michael Halkitis in leading international bodies.
Fitzgerald chairs both the Commonwealth Education Ministers Council and the Organization of American States (OAS) Education Ministers Council.
Halkitis was recently appointed the chairman of the board of governors of the Inter-American Development Bank (IDB) and the Inter-American Finance Corporation (IFC) at its Annual General Meetings held at the Melia Resort earlier this year.
This latest appointment brings to six, the number of international bodies chaired by three of our best and brightest young Bahamian leaders. This is indeed historic, worthy of praise and the PLP thanks them for their public service.
The Progressive Liberal Party remains committed to the "BIG TENT" philosophy where we offer a national platform for Bahamians from all walks of life with the desire for public service in the furtherance of our beloved country. Prime Minister Christie is on record as standing ready and willing to facilitate their development as the proverbial bridge to the future.