Renward Wells should explain to the Bahamian people why he signed a document which was a COMPLETE FRAUD ON THE BAHAMIAN PEOPLE!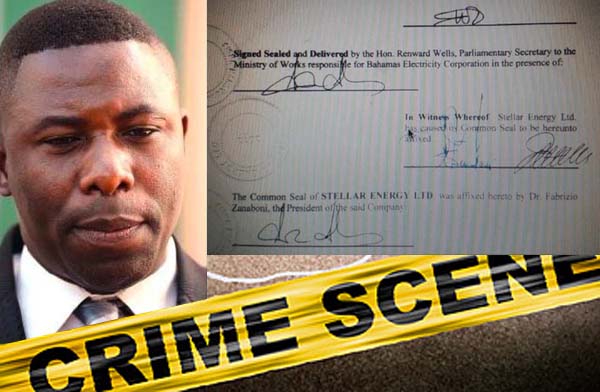 Nassau, Bahamas — It is indeed just amazing to see how some persons would use the death of another to cloak their sins.
Today in the Nassau Guardian MP for Bamboo Town Renward Wells, after months and months of promising to come clean to the Bahamian people on the Letter of Intent with Stellar Waste, finally told the Guardian that his signature is on the LOI.
It has now been exactly 28 days since Wells was fired and promised Clint Watson at ZNS to tell all about how he signed that letter of intent. But he has yet to say a word.
Some people really believe the Bahamian people are dumb and stupid. And some people in media really think we JOE PUBLIC are some jackasses and don't know a game when we see it.
Wells, in the interview with the Nassau Guardian this morning, said, "[Pastor Myles Munroe] said to speak to the good of what it meant and let that be it. He said that the steps of a righteous man are ordered of GOD. He said if you are continuing to move in that vein, the Lord would elevate you in due season."
Well, Pastor Munroe is not here to defend his advice to Wells and, as far as BP is concerned, the fired MP should not use the death of a pastor and respected international speaker to cover, hide or cloak his actions.
The Bahamian people would like to know who told you to sign a document which had no portfolio assignment under the Ministry of Works?
Who coached you to fool the Bahamian people and to sign a document which was never vetted by the Cabinet Lawyers [THE Attorney General's Office]? Why would you sign a document [LOI] which has no advisement or instruction from the Cabinet of the Bahamas who are all still dumbfounded by the LOI? And where did that document signed by you come from? Who generated the document? And why isn't the LOI on any file in the government? In short, our question to Renward Wells is this…Do you think Dr. Myles Munroe would have agreed with you about taking part in something that was FRAUD against the Bahamian People?
We think not! And media people should do their damn jobs and probe this matter to the bitter end!
It has been more than 28 days since Dr. Myles, Prime Minister Christie and the PLP Council asked Renward Wells to explain himself over this matter of his signing of a Letter of Intent! He has refused to do so and we at Bahamas Press would like to know why?
We report yinner decide!