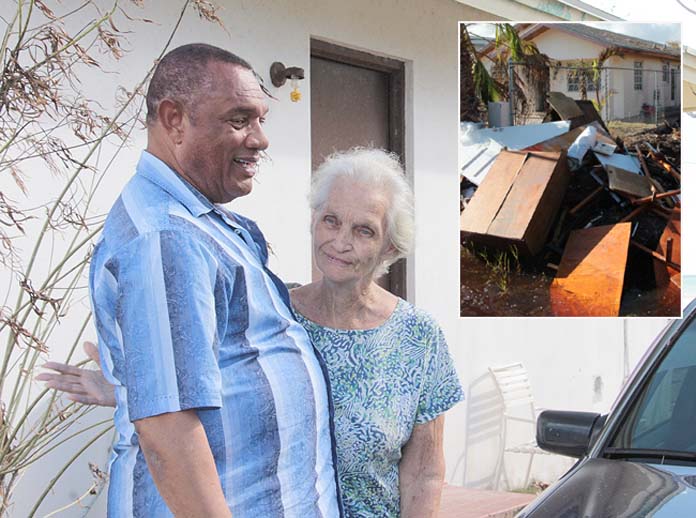 NASSAU, The Bahamas — Prime Minister and Minister of Finance the Rt. Hon. Perry Christie, Minister responsible for Hurricane Relief and Restoration the Hon. Shane Gibson, and Members of Parliament joined a team operating under the umbrella of the National Emergency Management Agency (NEMA) and other pertinent stakeholders for an interactive visit with residents in Southern New Providence on October 17, 2016.
"One of the reasons I wanted to come out here in the South was because we placed a lot of emphasis on Andros, Grand Bahama — Lowe Sound, Freeport, West End — and people may have gotten the impression that the damage is much less here in New Providence and it is really not," Prime Minister Christie said. "We hear the complaints about electricity; but people must be aware that in New Providence I do not recall having a category 4 hurricane pass through and hit New Providence directly."
The first stop was the historic community of Adelaide, where Prime Minister Christie, Minister Gibson, Minister of State the Hon. Michael Halkitis and other Members of Parliament spoke to various residents, while NEMA and Department of Social Services representatives, several police officers and Urban Renewal officials worked to ascertain their various needs after the onslaught of Hurricane Matthew.
Next, the team visited Marshall Road and witnessed firsthand the surge waters that were still present in several places. They also heard harrowing tales of survival from those who did not heed the warnings to leave the area, and Minister of the Environment and Housing the Hon. Kendred Dorsett showed the team a horseshoe-shaped road that was still partially submerged.
In Misty Gardens, they interacted with residents who also did not heed the evacuation warning and met men who saved their neighbours from chest-high surge waters and assisted the armed forces with further rescues.
Finally, it was on to South Beach, where long-time residents concurred about the fear they experienced in seeing the waters approach and engulf their homes. Parliamentary Secretary in the Ministry of Foreign Affairs and Immigration the Hon. Cleola Hamilton spoke to several residents, as their needs were being assessed by the proper officials. One older resident said that Hurricane Matthew was the worst storm he experienced since Hurricane Betsy of 1965.
Being on the ground, Prime Minister Christie and the stakeholders were able to make more informed decisions, including one to institute Urban Renewal in all constituencies in an effort to assist in recovery and restoration.
"What we found here is that there is a lot of damage and that, rather than have people come out on an ad-hoc basis, we should have a more organized approach to it, " Prime Minister Christie said during the exercise.
"So the coordinator Minister Gibson and Captain (Stephen) Russell, and Assistant Commissioner (Stephen) Dean determined that we should integrate Urban Renewal into this process and because Urban Renewal is only in, I think, 11 areas, it meant that we have to create new entities, whole new bodies of people led by the police force — and this is the next point — to ensure accountability, to ensure fairness, to ensure that we reach the people who we ought to reach .…"
Throughout the visit, needs were assessed, tarpaulins were distributed as temporary fixes as needed, and residents had a chance to speak firsthand with officials who were able to interact with them one-one-one, making many vocalize the view that they felt that "someone cared" about them.
"The idea is to be able to have a group of persons who constitute a multi-disciplinary team, that will go into these areas, be added to according to the extent to which their work is necessary and to be able to bring relief and keep us informed as to what is happening," Prime Minister Christie said, as he stood on the shores of Adelaide.
"The worse thing out there is that people out there are battling on their own and not knowing who to turn to and that sort of is almost cancerous. It's very toxic to have people who don't know how to access assistance; so this team is there to really respond .…"