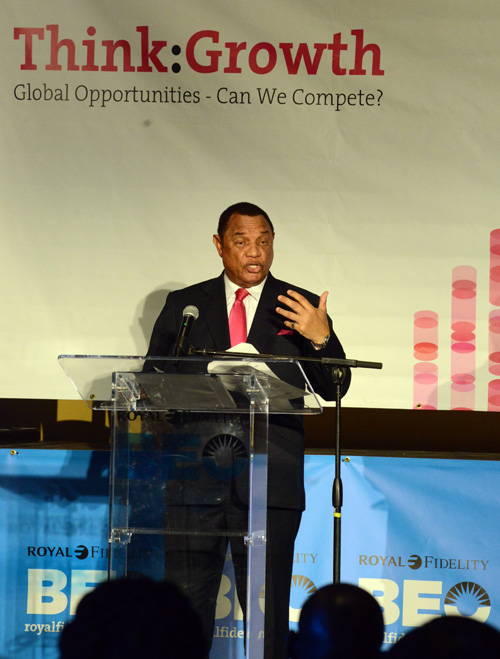 PARADISE ISLAND, The Bahamas – Prime Minister, the Right Hon. Perry G. Christie is optimistic about the country's future economic outlook. He said that the country's financial future is moving in a positive direction. Mr. Christie made the statement during his address at the Royal Fidelity Bahamas Economic Outlook seminar held at Atlantis, Paradise Island, February 3: "I am confident that our economy will grow at a healthier pace in 2015 than last year, and in measure because of the progress that we continue to see in attracting foreign investments to our shores and because of the stronger momentum from the United States and other major economies that fuel our tourism product."
He said that the government would stay the course on its fiscal reform agenda, in order to engender the confidence that stable and sustainable public finances provides for expansion in both Bahamian and foreign-owned businesses.
"Our national wellbeing is also tied to the quality of life and positive aspirations that we provide for our citizens," he observed. "As such I believe that the goals that we have set in terms improving the quality of social infrastructure in healthcare, education and public safety will also contribute to a more enabling environment for economic activities."
Mr. Christie noted that the country's economy has grown over the last few years, and it continues to produce new jobs. He said, however, that by all measures, that pace has not been strong enough to enable a strong dent in the unemployment rate.
The government is now on the path to explore new territories to boost the tourism sector. Measures have already been taken to attract emerging markets such as Latin America and Asia.
Regarding unemployment in the country, Prime Minister Christie said latest figures from a recent survey indicate that overall, unemployment was 15.7% near the close of 2014 and that urban unemployment peaked at almost 19%. He said that the government is 'committed' to bringing these numbers down by continuing to stimulate private sector investments.
"The seeds for many of these jobs have are already being sown in projects in various stages of development in New Providence, Eleuthera, Andros, Abaco, Bimini, Exuma, San Salvador, Cat Island, Grand Bahama, and in other areas," said Mr. Christie.
The government, he continued, has embarked on seeking a major private sector partner to take over operations of the Bahamas Electricity Corporation. He said that the objective is to reduce the cost of electricity to businesses and consumers.
In addition, he discussed the recent modernization and regularization exercise the government undertook with the gaming industry.
"We have already crafted a modern and inclusive regulatory framework for gaming. Indeed, the inroads we have made in regularizing local gaming activity cannot be understated," said Mr. Christie. "Up to this point we had faced a diversion of valuable police and judicial resources to deter these activities, and we tolerated a parallel financial system that threatened the stability of regulated banking sector. With the reform, we have spoken to these distortions and allowed these activities to directly contribute to the revenue generating capacity of the Government."
Mr. Christie also spoke of the upcoming Bahamas Junkanoo Carnival. He said that it is a 'long overdue commercialization of a cultural practice which needed to occur.' He said that the objective is to attract more visitors to the country and improve their experience while simultaneously delivering incremental gains in the generation and collection of taxes.
"It puts thousands of Bahamians in a position to begin to earn a living from something they have enjoyed doing simply for the love of it, and heretofore at personal expense," he said. "I expect that the upcoming Bahamas Junkanoo Carnival will net significant economic returns and position the Bahamas in strong competitive relative to other such regional festivals."
The Prime Minister said that the Bahamas Agriculture and Marine Science Institute (BAMSI) is high on the list of initiatives that can 'solidify and can broaden' our economic base. "Commercial agriculture and fisheries must be allowed to flourish on a sustained basis in our country — BAMSI must contribute to the scientific body of knowledge of commercial crop techniques that can flourish in The Bahamas."
He said that BAMSI would produce a new generation of skilled businesspersons in agriculture and fisheries. This, he believes is an opportunity to increase input linkages with tourism and to secure niche export markets.
And finally, the Prime Minister discussed the impending opening of the Baha Mar Resort. It is anticipated that the new resort will open in spring and will employ some 5,000 persons.