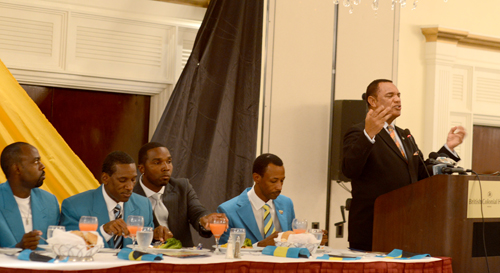 NASSAU, The Bahamas – Prime Minister the Rt. Hon. Perry Christie said, on July 29, 2013, that when one is looking at the development of sports in a country, one must have sporting heroes for others to look up to as athletic role models, encouraging younger citizens to strive to succeed, no matter their circumstances in life.
"It is for me to say to each of you, as you accept this award, that you really made it possible for younger ones to believe that they could do better and that they could compete at the level of the Olympics and the level of the world," Prime Minister Christie said to the Bahamian Olympic Men's 4 x 400-metre relay team receiving their bronze medals from the Sydney Olympic Games of 2000, during a ceremony at the British Colonial Hilton.
"It was a defining kind of performance — a defining moment in sports — and I thank you for it," he added.
The team of Chris Brown, Carl Oliver, Troy McIntosh, Avard Moncur and Tim Munnings received the bronze medal from the Sydney Olympic Games, after the USA team, the original bronze medal winner, was disqualified after the event.
Also present was the Minister of Youth, Sports and Culture Dr. the Hon. Danny Johnson, Bahamas Olympic Committee (BOC) President Wellington Miller, BOC members and Bahamian sport stakeholders.
Prime Minister Christie encouraged team members to travel through The Bahamas and meet young children in the schools and give them a chance to dream about being as good as, or even better, than they are in athletics.
"I want each of you to reflect on your contribution to athletics in The Bahamas and to see, as professionals, what you are doing now, and to hope that, in some way, you are able to give something back," he said.
To the audience, Prime Minister Christie said that athletes must be encouraged in all of the Family Islands of The Bahamas and not just New Providence and Grand Bahama.  To this end, he said that the Government would create sporting complexes throughout the islands.
"I am hoping that tomorrow my Government signs off on the first one in Abaco," he announced.
Prime Minister Christie said that it is a huge undertaking; but, as his Government does it, what would be created are opportunities for talented children.  For example, he said, in Abaco – in addition to a centrally located sporting complex — there would be fields constructed in various major settlements for the athletes to practice.
"I have always believed that there are gold medalists out there waiting to have an opportunity," he added.
Prime Minister Christie aid that he encouraged Bahamian athletes teaching or living abroad to come back and help the younger ones, even working for the Department of Sports and coaching them.
He re-iterated his congratulation of "a job well done" by the team and said that although it took 13 years, "God is good".
"Justice is done, justice was truly done," he said.