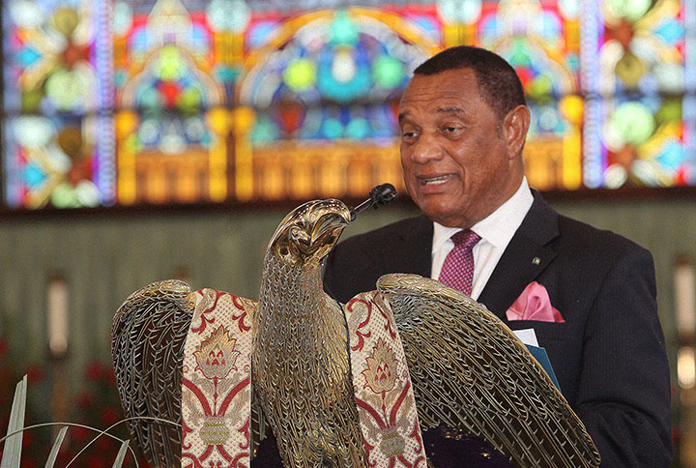 NASSAU, The Bahamas — Prime Minister and Minister of Finance the Rt. Hon. Perry Christie said that throughout the journey that brought The Bahamas to the current Charter Week for the University of The Bahamas — and even before — he had been conscious of God's "hand at work."
Speaking at the Service of Thanksgiving on the Occasion of the Charter Day for the University of The Bahamas, November 6, 2016 at Christ Church Cathedral, Prime Minister Christie said: "For me, this week is the realisation of a dream I have long had – the dream of a University of The Bahamas."
He continued: "A national university has been a dream for many, and today, as the Choir sings magnificent hymns and we prepare to hear God's message through (the Very Reverend) Dean (Patrick L.) Adderley, I want us all to reflect on how significant it is for the Bahamian people that we have a national university."
Prime Minister Christie noted that the institution will service The Bahamas in ways that can only be imagined.
"A university does so much more than educate a population," he pointed out. "It aids in research, in defining and creating public policy. A university is a space where imagination is encouraged and dreamers, like me, become free to make their dreams come true.
"At the university, we will nurture talent and inspire new leaders."
Prime Minister Christie said that he believed that the institution will also aid in uniting the country.
"Truly, the entire archipelago is the campus of the University of The Bahamas," he said. "Every citizen — from north to south — will have the opportunity to study closer to home.
"That will be a blessing to those people and a boon for the economies on those islands," he added. "Already the existing campuses are growing to accommodate more students – national, regional and international."
Prime Minister Christie said that it was his sincere hope that the nation harnesses "this blessing" and uses it for the maximum benefit of all.
"At the University of The Bahamas, the doors will be open," Prime Minister Christie said. "We will be inclusive and we will encourage diversity."
He added: "I want to ask everyone here today, and all those taking part in this week's activities, to breathe a prayer of success over everything and to commit to being, in any way, great or small, a contributor to the success of the University of The Bahamas."