PM stopped by to encourage nation's youth!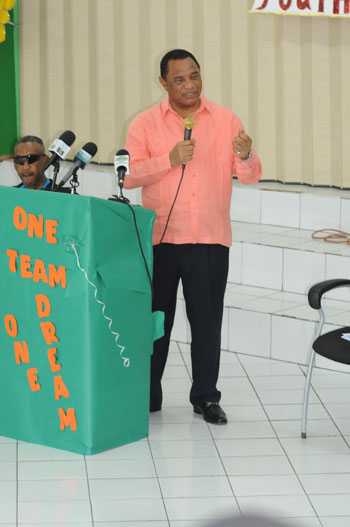 Inspiring Z-Bandit Summer Camp Participants: Prime Minister, the Rt. Hon. Perry G. Christie, gave remarks at the Z-Bandit Junkanoo and Community Organization's 9th Annual Summer Camp, August 7, encouraging the children to follow their dreams and be the best they can be.
The six-week camp was held at the E. P. Roberts Primary School on Lincoln Boulevard. Campers participated in a number of activities including basketball, Junkanoo crafts, sewing, culinary arts, and cabinet making. To date, over 800 children have participated in the program.
The summer camp culminates with a Junkanoo rush out and community activities geared at taking back the streets following a series of criminal activities in the area.
Patron of the event, Mr. Eugene Collie, leader of the Z-Bandits Junkanoo group, looks on.