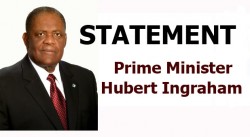 PRESS STATEMENT BY
RT. HON. HUBERT INGRAHAM
PRIME MINISTER
ON THE DEATH OF CONRAD KNOWLES
17 JUNE 2008
It is with regret and a deep sense of loss that I heard today the announcement of the passing of Conrad Knowles, a truly outstanding Bahamian gentleman, a dedicated public servant and a loyal friend.  Mr. Knowles during his lifetime demonstrated the unmistakable qualities of an exemplary citizen.
He served for many years on the Royal Bahamas Police Force rising through the ranks during difficult times to achieve high office in that organization.
He maintained his integrity throughout this long service while gaining the respect and admiration of his fellow officers as well as the public.  He was indeed an officer and a gentleman and those who follow in service in our disciplined forces would do well to emulate him.
Mr. Knowles was also a shining example of a good family man and a role model for today's generation.  He was a loyal husband and nurturing father to his children and to other young people with whom he came into contact.  His children are a testimony to his loving care.
After his retirement from the public service, Mr. Knowles continued to demonstrate his love for, and commitment to, the orderly development of his beloved Bahamas as he took a keen and active interest in public affairs.
On behalf of the Government and people of The Bahamas I extend sincere condolences to Mrs. Knowles, their children and the extended family.  We share in their loss.