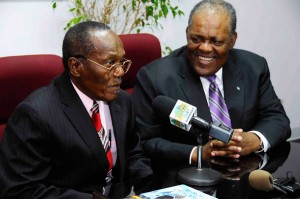 Freeport, Bahamas – The story of Havard Cooper Sr., and his entrepreneurial accomplishments is one that should be known by students of the public school system in Grand Bahama, Prime Minister Hubert Ingraham said as he heralded the achievements of the iconic businessman upon receipt of his autobiography, My Story, His Glory.
Rev. Cooper presented his autobiography to Prime Minister Ingraham, and shared details of his struggles to triumph in building the Kentucky Fried Chicken (KFC) franchise during the early years of Freeport's development.
"I have come from a long way, I wasn't just born where I am," declared Rev. Cooper, who grew up in poverty and whose education at Eight Mile Rock All-Age he fondly recalled as having occurred "mostly under the grape tree" because of the size of the school at that time.
Prior to launching out into his own business exploits, Rev. Cooper worked with Freeport founder Wallace Groves.
Striking out on his own was fraught with challenges, he said, battling difficulties in securing funding and winning the confidence of colleagues and other businesspersons.
"Being in the chicken business, it was a good business but it was hard work because employees were not easy to get at that time as it is today."
Over the decades, Rev. Cooper expanded his reach, opening a cross section of restaurants and mainstay establishments including KFC, Burger King, Pizza Hut, Pollo Tropical, LMR Drugs and Halt Industries.
He has since turned ownership of those businesses over to his children, an inheritance Prime Minister Ingraham highlighted as being unique.
"That's one of the things they say about you," Mr. Ingraham said, "they say that you are a very unusual man in the context of The Bahamas, that instead of waiting until you leave this world one day to make sure that your children have things, you are able to give it to them while you are alive and see how successful they are going to be with what you have given them, rather than hoarding it up to distribute after you are gone."
The Prime Minister said he expected the Broadcasting Corporation of The Bahamas to expound on the life of Rev. Cooper in the form of a feature on his story and accomplishments.
"You are probably, in my view the most successful Grand Bahama businessman," Mr. Ingraham noted. "You have performed in a most exemplary manner and fashion, and we are all very proud of you and your accomplishments."