Area MP Chester Cooper attempted to get the PM to engage the community on serious question – but the PM refused! Residents don't know yet what to pay on July 1st 7.5% or 12%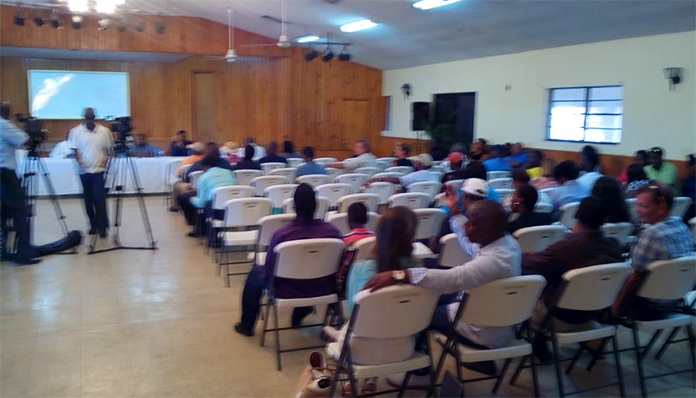 Exuma – Prime Minister Hubert Minnis who is on a Island VAT Increase Tour across the country ended in a flop in Exuma.
The Prime Minister ran on and on about the 60% Vat increase to 12% come Sunday with all kinds of fear mongering.
Area MP and PLP Viceroy for Exuma Chester Cooper also showed up to join in with his community to get answers to many of the questions which remain unanswered by PM Minnis.
But before the PM could finish his presentation, the PM leaned over to the moderator to close out the meeting with the Benediction. One islander stood up and said, : Good Evening! The PM quickly snapped saying, "Certainly NOT!"
The community began to laugh and wonder why was the PM was so quick to break off running. MP Cooper attempted to reach towards the PM and get his attention for the concerns in the community, but PM Minnis wasn't having it. He refused questions as he fled in the opposite direction. The PM at the meeting which was held in the George Town Community Centre simply warned the residents to brace for his new VAT TAX plan.
A government notice says the 12% vat does not kicks in until August 31st, 2018. So on July 1st, 2018 what do we the consumers pay? No one can answer this – NOT EVEN THE PM.
Well what is this?
We report yinner decide!