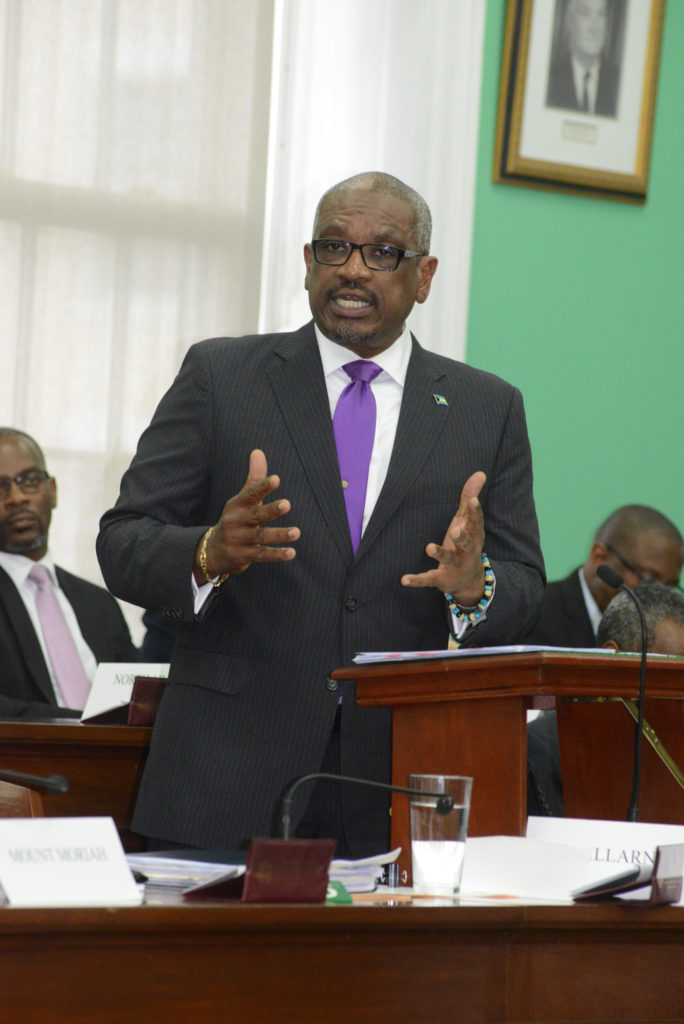 Nassau, The Bahamas – National Address Dr. the Hon. Hubert Minnis Prime Minister Commonwealth of The Bahamas Monday, 29 January 2018
Fellow Citizens and Residents:
Good evening.
A belated Happy New Year.
Upon our election to office, we pledged to listen to the voice, aspirations, dreams, hopes and desires of our people, and institute policies drawn from the vast experience of Bahamians at home, overseas, and including in the Diaspora.
We are listening to the voices of the people from Bain Town, to Marsh Harbour, to Freeport, to Exuma, Andros, and throughout the Bahamas, and from around the world.
Last May, I promised to address the nation at the beginning of the year and mid – year.
Tonight, I report to you on the work of the Government since May.
I also wish to report on our ambitious agenda for 2018.
Our economic recovery has a long way to go. Many Bahamians are still struggling. Unemployment remains too high.
But despite the long road ahead, recovery has begun and there are positive prospects on the horizon.
We are making progress.
Our first mission was to stabilize the economy and public finances in order to avoid a further downgrade by credit rating agencies. We still have a way to go to improve our fiscal health and to get our financial house in order. Through discipline and careful financial management we are steadily improving public finances, reducing waste and addressing corruption by public officials.
To protect our financial services industry, we took decisive action to avoid being blacklisted by the European Union and the Organization of Economic Cooperation and Development.
2018 will be a year of growth, investment, and new jobs and economic opportunity.
My Government's major economic priorities are job – creation, opportunities for entrepreneurship, business development, and promoting the ease of doing business in order to boost investment and improve productivity.
The Ease of Doing Business Committee, which was appointed soon after our election, has made a number of detailed significant recommendations to streamline various government regulations and processes.
My administration will aggressively respond to these critical recommendations for government reform and modernization.
After consultation with the Central Bank, there will be a relaxation of various exchange control transactions.
Without prior reference to the Central Bank, Bahamian – owned businesses will be allowed to maintain operating deposit accounts with up to $100,000 in foreign currency at domestic commercial banks.
These accounts will have to be funded exclusively from revenues earned in foreign currency. This reform will go into effect on the first of February.
To streamline the business licence process, the Department of Inland Revenue is launching an initiative to make the business licence
approval process faster, and easier, by creating a single point for submission of all applications related to the opening of a business.
This will eliminate the need for visits to multiple agencies, and will provide a source of information where all the requirements for opening a business are clearly outlined.
The Department is running a pilot program and the new process is expected to be rolled out in the coming weeks.
The Government has engaged a leading firm to suggest options for tax reform, which will help to rationalize government finances.
Fellow – Bahamians and Residents:
In the tourism sector, Baha Mar launched a new global marketing campaign in November.
Grand Hyatt towers, which opened last year with 1,000 rooms, now has 1,800 rooms available.
The SLS Lux at Baha Mar opened in November. It is expected that Rosewood will open within the next several months.
Atlantis, Paradise Island, has also launched a global re – branding, and Four Seasons Hotels and Resorts has been contracted to manage the One and Only Ocean Club Resort.
Other investments in the pipeline include the 100 – room condominium hotel and marina at the Pointe, and a 118 – unit condo – hotel project by the Wynn Group at Gold Blossom, on West Bay Street.
We promised to give greater priority to initiatives to enliven and bring excitement to downtown Nassau and execute plans for the continued refurbishment of Festival Place.
We are already moving beyond this commitment and examining plans for the complete redevelopment of Prince George Dock and the surrounding areas.
We believe that the redevelopment of Prince George Dock is essential for the redevelopment of Downtown Nassau. The redevelopment of Downtown must go from east to west and north to south.
We promised to launch the rebound of the island of Grand Bahama in accordance with a master strategic plan designed for Grand Bahama, and to establish a tourism signature identity in the marketplace for the Island of Grand Bahama.
The restoration of the economy of Grand Bahama is critical for the economic recovery of the Bahamas.
I am delighted to tell the people of Grand Bahama, and the people of the Bahamas, that our plan for Grand Bahama is well underway with the private acquisition and management of the Grand Lucayan assets, including the hotels, the golf courses and the casino.
Although this transaction is far from completed, it would not be an exaggeration to say that we will have accomplished in a few months what was not done in a decade.
This year, we intend to complete the sale of the Grand Lucayan and Memories property.
After they are reopened, the economy of Grand Bahama will improve significantly, including with a tremendous increase in employment and related business and economic opportunities.
We also promised to focus on the development of Freeport as the focus of an offshore technology hub.
Last week I led a delegation to Austin, Texas, one of the more prominent technology hubs in the United States.
While in Texas, we met with several companies that expressed interest in contributing to, and taking advantage of the opportunities that are developing in Freeport.
We have also successfully negotiated with Bahamas Paradise on the return of the Grand Celebration, and the introduction of a new vessel, the Grand Classica , which will bring additional stopover visitors to Grand Bahama.
In conjunction with the Ministry of Tourism, we negotiated additional airlift agreement with Sunwing, which should commence this year.
The Government has recently received an application in relation to West End, Grand Bahama, for the Grand Palm Beach property.
In 2008, the previous developer went into foreclosure and the Government has now been advised that Grand Palm Beach Acquisitions L td. has entered into a Purchase and Sale Agreement for the purchase of a large – scale resort known as "Ginn Sur Mer" in the West End of Grand Bahama.
Grand Beach Acquisitions Ltd. will construct, repair, revitalize, develop, and operate 246 rooms in three hotels, a banquet facility, 116 branded hotel residence s , 1,000 other residences, a hotel/casino site, approximately 150,000 square feet of shops and restaurants, a spa and wellness retreat, two marinas, an 18 hole golf course including driving range, an IF R – rated airport, a resort hospitality training academy, and an organic farm.
Grand Palm Beach Acquisitions Ltd. intends to repair, revitalize, and develop the Property to be known as "Bahama Bay" in nine phases over a 10 year period with a projected expenditure of Two Billion Five Hundred and Sixty Million Dollars.
The application is now before the National Economic Council to approve in principle, and to authorize the relevant government agencies to negotiate a Heads of Agreement on an expeditious basis.
There is new investment in East Grand Bahama at the oil refinery, which will help to provide a number of jobs.
To boost investment and growth, it is my intention to undertake several investment promotion trips abroad to include Canada, the United State s, Europe, East Asia, and South America.
We look forward to the participation of the private sector in this initiative.
Fellow Bahamians and Residents:
Access to affordable housing is critical for social and economic development. This year we will introduce an ambitious housing program.
Through this program, the Government will provide extremely low cost lots to potential first – time home owners in New Providence.
The lots will be supplied with necessary utilities. The homeowners will be responsible for building their own homes.
They may utilize their own architect or utilize per-existing plans offered by the Government.
The potential homeowners will have two years to build their homes at duty free concessionary rates.
Because the lots will be inexpensive, we expect scores of first – time home owners to take advantage of this program.
The program will be extended to family Islands thus encouraging family island ownership, second home ownership, and entrepreneurship development of bed and breakfast properties….
See attached FULL National Address Dr. the Hon. Hubert Minnis Prime Minister Commonwealth of The Bahamas
Click to download the attached file(s):
Prime_Minister_Minnis__National_Address_-_Monday__29_January_2018__SP.pdf