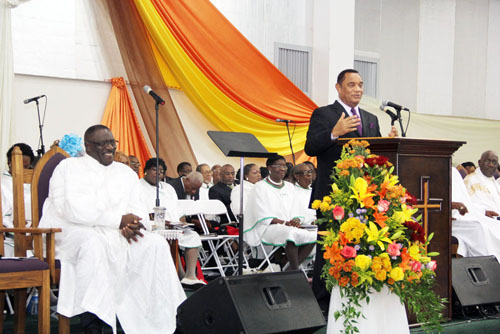 On the 56th Baptist Recognition Day, October 5, the Baptist community gathered to dedicate a new auditorium on Jean Street, Gleniston Gardens, in honour of Reverend Dr. William Thompson, CMG, senior pastor of Faith United Missionary Baptist Church and president of the Bahamas National Baptist Missionary and Educational Convention.
The Prime Minister, the Rt. Hon. Perry Christie (at the podium) gave remarks at the Dedication ceremony, with Rev. Dr. William Thompson seated at left.
Second photo shows part of the audience at the Dedication, which launches two weeks of Baptist community activity, culminating in a Baptist Day Parade, October 19.