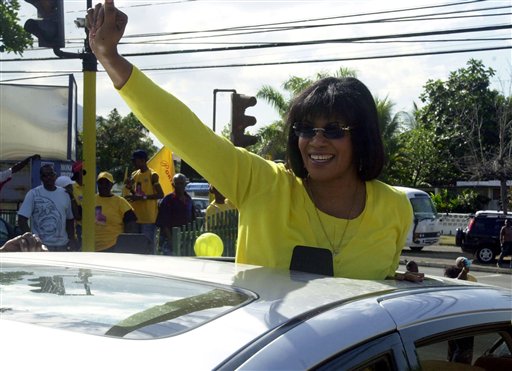 Daraine Luton, Senior Staff Reporter
A People's National Party (PNP) supporter has described Denise Daley's win over Sharon Hay-Webster as "the sweetest one for the party."
"After what she did to the party I love that one," a jubilant supporter at the PNP headquarters on Old Hope Road in St. Andrew said.
Hay-Webster switched allegiance from the PNP and joined the Jamaica Labour Party. Running in a re-configured St. Catherine Eastern, Hay-Webster was swamped by Daley 8,747 votes to 5,589.
"Me and me neighbour vote out Labour, me an mi neighbour vote for Portia," another supporter said.
As the results flashed across the big screen mounted on the grounds, supporters mockingly declared they were happy to make the JLP a one-term government.
When the results flashed on the screen, which indicated victory for Peter Bunting over Danville Walker in Manchester Central, the people shouted "pack up scrappy, pack up scrappy."
The mood of the party supporters was in stark contrast to 2007 when many hung their heads in disappointment following a narrow loss.
Tonight they had vuzuzelas and shouted on top of their voices claiming victory even before the election was declared.
Among them was one supporter Tamara who stormed through the gates of the headquarters with her clenched firsts held high. "No more sufferation,' she said with glee all over her face.
"All a me bills pile up pon me when Labourites inna power and mi know seh Portia a go mek a difference," she said.
daraine.luton@gleanerjm.com