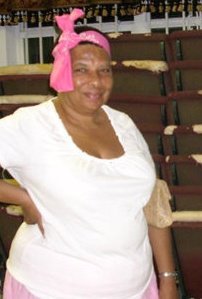 Nassau, Bahamas — Little is being reported about that attack on a woman stabbed multiple times in her home late Friday night.
A brutal attack took place on Mrs. Cheryl Stubbs, the wife of the Honorary Consul to the Republic of Suriname, Mr. Fritz Stubbs, at their home on West Grove.
We can report Cheryl was stabbed some 15 times in the back by her attacker. She is listed in serious condition.
Police we are told are looking into the matter, but we at BP are wondering, how is it no one has been questioned in this latest crime?
The Priest of the woman called on the church this past Sunday to pray for her speedy recovery.
Human fetus found at parking lot – Police conduct 'Operation Bimini'
Human Fetus found at parking lot – On Friday, around 9:28am, police received information that the body of a fetus was found in the parking lot at the Rand Memorial Hospital.
The human fetus was discovered lying on the ground in the southern parking lot across from the Rand Memorial Hospital, under a vehicle. Officers were called to the scene where doctor at the Rand Memorial Hospital pronounced the body dead.
Police conduct 'Operation Bimini' – Around 8:00am on Friday, a team of officers from the Bimini Division along with Officers from Drug Enforcement Unit arrested seven persons for various offences namely; Murder, Harboring a Criminal and Possession of Firearms. The Firearms discovered were (1) black .40 Glock pistol, (1) Herstal pistol with extended magazine loaded with 5.7 rounds of ammunition and also a .40 hollow tip magazine.
Officers also arrested one person in connection with the 2,300lbs drug seizure that occurred on 2nd November 2012. All suspects were transported to New Providence.
Another weapon uncovered
Officers of the Central Detective Unit uncovered an illegal pistol on Augusta Street on Monday morning.
Preliminary reports indicate that around 1:00 am officers were on routine patrol when they observed a dark male, wearing dark clothing acting suspiciously.
It is reported that the male on seeing the officers ran and was observed throwing an object into nearby bushes.
Officers conducted a search of the bushes where the object was thrown and discovered the weapon.
To date, police have confiscated four hundred and thirty-three (433) firearms along with six thousand, one hundred, twenty-nine (6129) rounds of ammunition.
**POLICE INVESTIGATES HOUSE-FIRE**
A husband and wife are detained in hospital in stable condition following a fire at their Garden Hills home.
Preliminary reports indicate that shortly after 1:00 am on Monday 12th November, 2012 police received information of a house-fire at Hyacinth Avenue, Garden Hills.
Firefighters responded and met the western section of a seven (7) room single storey, stone structure engulfed in flames.
The fire was brought under control within a short period of time and subsequently extinguished.