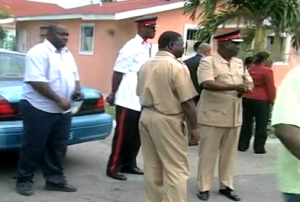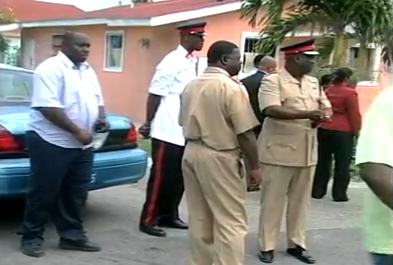 OFFICERS OF SOUTHERN & GROVE POLICE STATIONS STORM NEW PROVIDENCE
In a joint operation, officers of the Southern and Grove Police Stations (Southern Division) took to the streets of New Providence sending a clear message to persons engaged in criminal activities, that you will be caught. The operation resulted in ten (10) people being arrested and was conducted between the hours of 4:00 pm and 11:00 pm on Tuesday 31st May, 2011. Officers executed search warrants, and arrested people reference to Assault, Armed Robbery, Threats of Deaths and Possession of Dangerous Drugs. Additionally, persons were arrested for Disobeying a Court Order and on outstanding Warrants of Arrest.
Eleuthera Police Recovers Two (2) Fireams
Around 6pm on Monday 30th, May 2011 officers at Eleuthera acting on information proceeded to a bushy area between Cape Eleuthera and Deep Creek where they recovered two shot guns, a large quantity of shot gun shells as well as two magazines for high powered weapon. No one was taking into custody, however, police are investigating and appealing to members of the public who may have any information regarding this recovery or any other incidents to contact police at 919, 911, Eleuthera police at 332-2117, 334-2052 or Crime Stoppers at 242-300-8476.
---
May 30, 2011
647 Pounds of Marijuana Seized By DEU
Officers of the Drug Enforcement Unit along with officers of the Bimini District in a joint operation at South Bimini arrested three (3) males and seized twenty-three (23) crocus sack bags of suspected marijuana. Officers made the arrest sometime around 7:30 am on Friday 27th May, 2011 at South Bimini. During the incident it is believed that a boating accident occurred which resulted in a 36 year old male of Sandilands Village Road being killed. The drugs have a street value of six hundred and forty seven thousand dollars ($647,000.00) and have been flown into the capital. In reference to this incident the victim has been identified as 36 year old ANTHONY GIBSON of SANDILANDS VILLAGE ROAD. Police investigations continue.
---
May 29, 2011
Chippingham Man Arrested For Gun And Ammunition
Officers of the Southern Division arrested a 31 year old male after he was found in possession of a handgun. The arrest reportedly occurred around 3:30 am on Sunday 29th May, 2011. Preliminary reports indicate that officers of the Southern Division were on routine patrol on Nassau Street in the area of Bain Street when they observed a male acting suspiciously. It is reported that the culprit on seeing the officers threw an object beneath a nearby vehicle. Officers conducted a search of the area beneath the vehicle and recovered a handgun and ammunition. The male, a resident of Church Hill Avenue, Chippingham was taken into custody. Police investigations continue.
---
WHAT EVERY CITIZEN SHOULD KNOW
: According to section 212 subsection nine (9) of The Penal Code, Chapter 84: every person who loiters, carouses or the like in or about any shop, in any public place, and does not quietly move away when desired so to do by any peace officer or by the owner of the shop or his agent; shall, in every case, be liable to a penalty of one hundred and fifty dollars ($150.00).