25-year-old suspect turned himself into police tonight!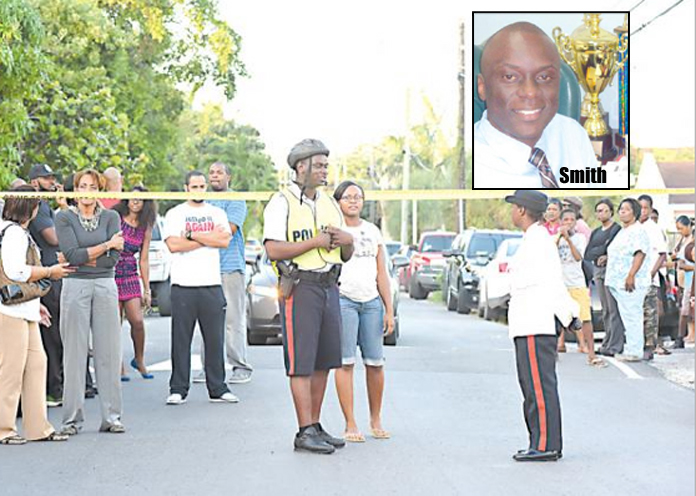 Nassau, Bahamas — We have breaking news coming into Bahamas Press, which confirm police have cracked a break into the murder investigation of volleyball coach, Devince Smith.
Breaking news from sources now investigating the bloody homicide of the former Pictet Bank & Trust Ltd. employee confirm a person of interest wanted in connection with this homicide has turned himself into police around 8:00pm tonight! He is now being processed at the Central Detective Unit.
Bahamas Press can reveal that the suspect is a 25-year-old, who was known to the victim. Smith was brutally murdered in his condo apartment on St. Alban's Drive and discovered on Dec. 21st, 2015.
More information revealing the horror of the murder has now come to the desk of BP. We can tell you when detectives were called to the scene, according to sources, the room presented a deadly attack. the victim lay motionless washed in blood.
Clear signs of a struggle between the victim and his attacker was visible. The victim was found with his throat slit, stabbed multiple times about the body with his tongue removed! UNBELIEVABLE! This evidence alone proves a crime of passion!
What was also revealed was that when detectives arrived to the scene the temperature in the apartment was extremely cold, perhaps turned up by the killer to preserve the body. Evidence also suggested whomever exited the room at the time of the homicide had set on the apartment's alarm system before exiting the door. WHAT IN DA HELL IS THIS!?
Tonight detectives believe they have that person of interest who will now answer questions and lead detectives to more evidence which will piece this puzzle together.
The 43-year-old banker's death was classified as the 143rd murder victim for 2015.
BP STANDING LIVE outside CDU!
We report yinner decide!