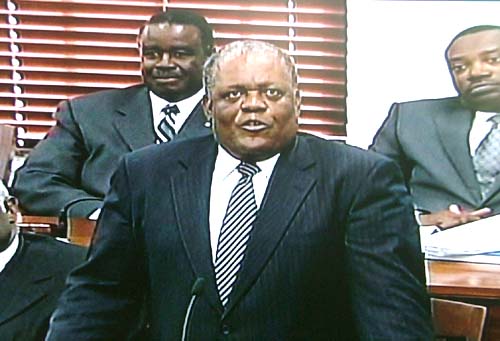 <<< Public money at National Insurance Board are being SQUANDERED! Millions are being pumped into contracts, which are not tendered. Prime Minister Hubert Ingraham is current Minister with portfolio for NIB.
Nassau, Bahamas — Some people try all they could to get rich quick while others die trying. Whatever the case, breaking news coming out of the National Insurance Board tell us all in not well at the Board and its minister, Hubert Ingraham, could find political fallout if he fails to look into the happenings at the Sir Clifford Darling Complex.
National Insurance Director, Algernon Cargill, informed members of the press recently of crimes whereby members of the public have defrauded NIB. He charged that persons were receiving the unemployment benefit cheques while still employed. HOW STUPID COULD A CRIMINAL MIND BE? Since Algernon's announcement we've seen persons handcuffed and dragged before the courts on Nassau Street. But there is more to this.
Bahamas Press as you know is a firm believer of Derek Walcott's words in his landmark play, Ti' Jean and his Brothers, where he suggests, the DEVIL has 'Invented Justice'. Walcott's line is a serious truth.
Your Bahamas Press has scaled the walls at NIB headquarters and began searching files in the 'troubled' institution and what we've uncovered is indeed SHOCKING!
While NIB is ready to lock away small persons and person opposed to Ingraham's government, we've learned the Board, the Minister [Hubert Ingraham] and the Director of NIB has been breaking the law themselves and will now be tried before the court of public opinion right here on Bahamas Press. Here what we know.
A warrant of arrest has been issued in a Nassau court for the husband of Juannianne Dorsett, Porky Dorsett. Juannianne you would remember was the former FNM MP for the Fox Hill community before totting a royal cut-you-know-what form current MP Fred Mitchell in the 2002 elections. How is it the WUTLESS MEDIA has yet to report this?
Porky, according to files scanned by BP, received a handsome contract from NIB recently in the thousands. The contract we now know was awarded to him by NIB; despite the fact his employees' contributions with the Board were not current. We now know while Porky were issued contracts after contract by NIB, papers by the legal department were processing to put him before the court for failing to pay the Board. The department did not get the memo.
When Porky's name was called before magistrate to answer charges for his failing to pay NIB contributions, he never appeared, and thus, the magistrate issued a warrant for his arrest.
Readers of BP would know it is the government's policy not to award a contract to companies with outstanding NIB contributions. Therefore, what was it, which qualified Porky his contracts with NIB, the very entity, which rejects persons applying for government contracts? How did Porky beat the system? Could it be his RED colours and FNM associations? We'll never know.
Our deep throat in NIB tells us, while Porky failed to appear before magistrate to answer his charge, the Board and other departments issued him more contracts, against government policy protocols. But this is not all.
We also know Porky was paid mobilization fees for a contract valued at $300,000  with the ministry of education for some upgrades to its building. The building with MOLD was financed by NIB funds. We now know despite the fact mobilization fees were paid, no work was ever carried out on the new building on Thompson Blvd. Bahamas Press wonders where did the money paid to Porky GO?
Could you imagine, if Prime Minister Ingraham is so asleep at the whee, with all this occurring under his nose, could you imagine what is taking place in other government entities?
Bahamas Press continues its look into NIB at 12 PM today. MORE TO COME!!!