BUSTED!!!!!! WHAT IN THE HELL IS DIS?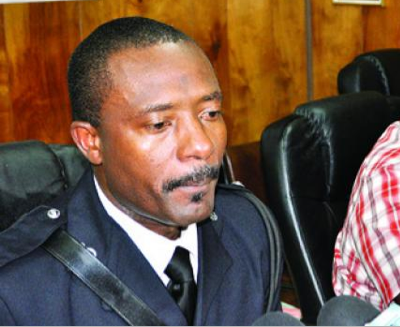 Nassau, Bahamas — Bahamas Press reported earlier over the holiday weekend that trouble was brewing on the Royal Bahamas Police Force for a senior member of the institution.
We reported on January 10th, 2013 that "a senior PSA officer's male copulatory organ present in some vertebrates [penis] allegedly began to grow, he began to force himself on another staffer. Before ya knew it, cameras were snapping and all the "shortcomings" of the senior PSA officer were filed with the police."
Well today after BP called for the top brass to deal with the matter, Inspector Dwight Smith head of the Police Staff Association was arrested for the alleged crime today.
Sources tell us the senior police officer was asked to resign after the allegations were made known. However the senior PSA Chairman resisted the offer. He will be arraigned shortly.
Inspector Smith was the key officer opposing the 12-hour shift, which kept communities safe and the crime and violence down. Now he is under the gun. Boy I tell ya.
Pray for him.
SUSPECTS TO APPEAR IN COURT FOR MURDER AND FIREARM POSSESSION
The following suspects will appear in the Magistrate's Court, Nassau Street on Monday 13th January 2013 at 12:00noon for Murder and Possession of an Unlicensed Firearm.
• A 21 – year old male of Kingston Street for the murder of Javin McKenzie
• A 19 – year old male of Rock Crusher Road for possession of an unlicensed firearm
We report yinner decide.
FOR THOSE WHO DON'T BELIEVE IN BAHAMIANS TAKE A LOOK AT THIS VIDEO…BP BELIEVES IN BAHAMIAN TALENT – EVEN IF THE PLP AND FNM DON'T GIVE A DAMN!!