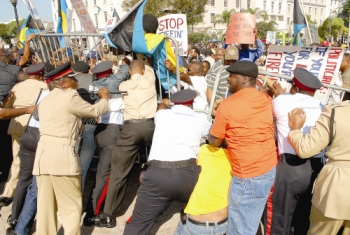 Nassau, Bahamas — Poll numbers by BBB Analytics suggest voter apathy with the governing Free National Movement Government is growing following the refusal to call the General Elections.
Voters were expecting to have the elections over and done with by now. However, it appears that the 2012 general elections could go beyond May 2.
We can report a poll done with 250 residents in the Elizabeth and Yamacraw constituencies suggest they are weary of the long delay to call the much awaited elections.
Eighty percent of the voters polled suggested they had hoped the elections would have been over by now with only 10% of the persons polled saying they expect a delay beyond May 2.
During the polling over the weekend, 25% of persons polled suggest the delay could force them to change their minds as to who they will support in the upcoming race.
One person taking part in the poll noted, "The longer Mr. Ingraham takes to call the election, the more disenchanted voters will become about returning his party back to government. More Bahamians at City Markets will be without jobs this coming Friday and I cannot hear any solution from the government to the economic crisis gripping the country.
"The government is expressing no solution like an injection of investments into the country. Nothing is being said on how they are getting jobs back into this economy and there is not any solution to help struggling businesses that are being plagued with higher taxes and fuel costs.
"The longer Mr. Ingraham waits, the worse it is going to be for him. Unemployed workers need to hear how they will find money next month. And the last thing they want to hear is that the Government will build more roads. That isn't ga cut it!"
We report Yinner DECIDE!