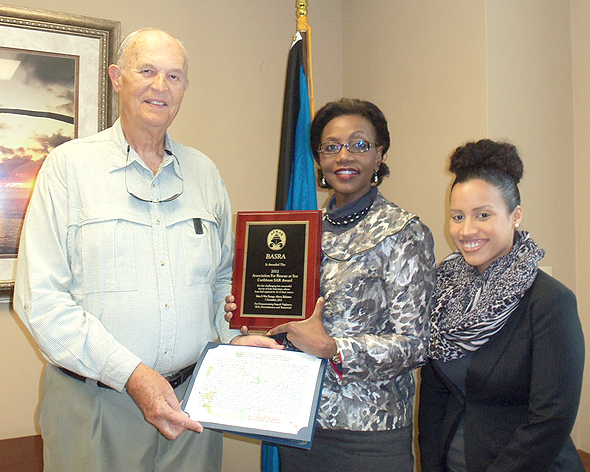 Consul General, Rhoda M. Jackson receives award from Mr. John Cooper, Director of AFRAS. Also pictured is Tracee Dorestant, Vice Consul at the Consulate in Miami, Florida.
On Friday, February 15, 2013, the Bahamas Consul General in Miami, Florida, received an award on behalf of The Bahamas Air Sea Rescue Association (BASRA).
The Caribbean Search and Rescue Lifesaving Award was bestowed on BASRA by the Association for Rescue at Sea (AFRAS) who chose BASRA for its heroic air sea rescue services, over 12 other nominations from across the Caribbean.
On November 7, 2011, BASRA members responded to a distress call involving 6 crewmen whose boat had capsized somewhere along the Man-O-War Passage in Abaco.  Four of the men survived the rescue when BASRA volunteers braved the dangerous seas breaking over the reef and with the assistance of a US Coast Guard helicopter, were able to save the four men.
On hand to present the award to Consul General, Rhoda M. Jackson was Mr. John Cooper, Director of AFRAS.  The annual awards ceremony was held on Capitol Hill in Washington, DC and was co-hosted by the Honourable Howard Coble, Co-Chairman of US Congressional Coast Guard Caucus.