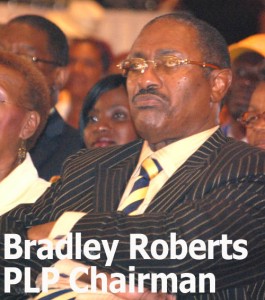 By Bradley B Roberts
National Chairman, Progressive Liberal Party
"Review and take all necessary steps with a view to renegotiating the contract with Cable and Wireless Corporation." (Charter for Governance, pg. 125)
With that election promise, the Prime Minister delivered yesterday, regaining 51% or the majority share and economic interests in the Bahamas Telecommunications Company (BTC) penalty-free and at no cost to the Bahamian people. The PLP welcomes and supports this announcement and congratulates Prime Minister Christie for his vision, strength, tenacity, focus and for putting Bahamians first as the principal objective of the tough negotiating process. Indeed no agreement is "irreversible" as his detractors and political enemies have extensively gloated and 51% is not 49% as some have argued.
The Prime Minister's demonstrated skill of "moral suasion" during these negotiations is uncommon in Bahamian politics and sets Mr. Christie apart as a leader because the bully pulpit and political bluster are often too easy and convenient platforms and tools exploited by political leaders but are not always in the best national interests.
We also thank the negotiating team of Franklyn Wilson, Sean McWeeney, Rowena Bethel and Leon Williams for executing the policy of the government amicably with BTC and with no adverse impact to the market value of BTC.
The government's decision to hold the 5,093,000 shares transferred in trust for the Bahamian people and to be used for permitted purposes are welcomed news because Bahamians get to see, touch, feel and experience the tangible benefits of the income derived from the re-acquired shares. Namely:
TO IMPROVE AND EXPAND THE BAHAMIAN PEOPLE'S ACCESS TO, AND ENJOYMENT OF, TELECOMMUNICATIONS TECHNOLOGY THROUGHOUT THE BAHAMAS;
TO ASSIST IN THE DEVELOPMENT OF ATHLETICS AND OTHER SPORTING, RECREATIONAL AND CIVIC ACTIVITIES IN THE BAHAMAS; AND
TO ASSIST IN THE WAR AGAINST CRIME BY EXPANDING THE USE OF CCTV AND TELECOMMUNICATIONS TECHNOLOGY AS TOOLS OF LAW ENFORCEMENT
There is nothing in this agreement that reasonable Bahamians of goodwill cannot get behind, support and benefit from.
To our detractors, gainsayers and critics – I invite you to eat crow, to do so liberally and to choke on it. In the end, this pursuit was not a "fool's errand;" it was not "a waste of time," nor was it a chase after an "elusive rainbow" as some have gloated. There was indeed a pot of gold at the end of the rainbow payable to the Bahamian people in perpetuity – the value and national developmental benefits for our Youth are incalculable.
I echo the sentiments of the Prime Minister that this negotiated agreement is a win-win deal for all involved, but judging from the sour grapes emanating from the leader of the opposition, what is good for The Bahamas and its people is not good for the narrow, unpatriotic and selfish interests of the FNM.
As his political enemies spin, split hairs, brood and complain, the Prime Minister and his team will move confidently into his next mandate which is the liberalization of the telecommunications sector, affording Bahamians more service options, better prices and access to the best technology available globally through increased competition and economic expansion.
End