TRIBUTE BY
THE PRIME MINISTER
THE RT. HON. PERRY G. CHRISTIE
AT STATE-RECOGNIZED
FUNERAL SERVICES
FOR THE LATE
THOMAS AUGUSTUS ("TOMMY") ROBINSON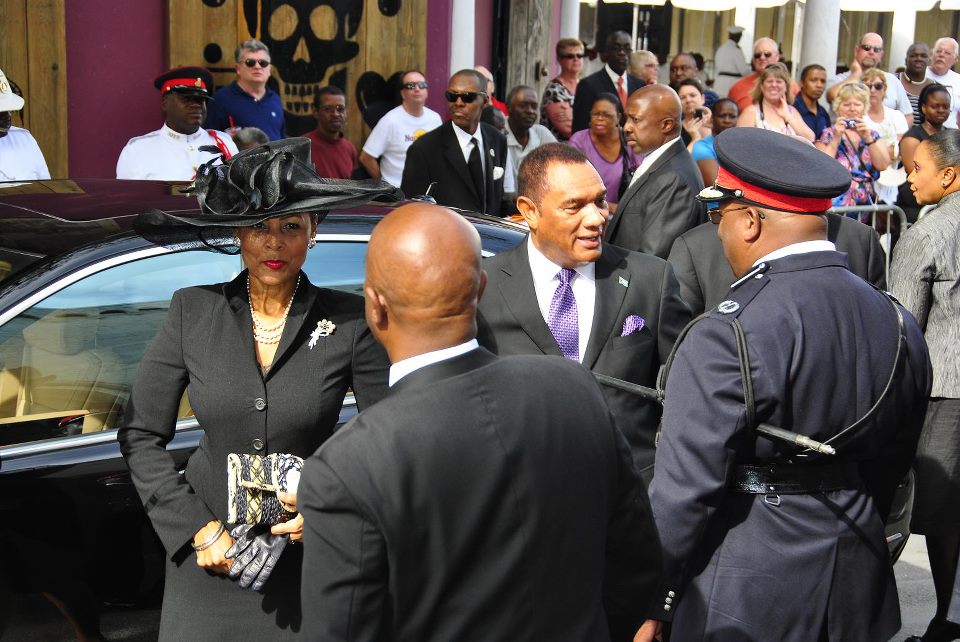 December 5th, 2012
I have already had occasion to publicly lament the passing of my dear friend, Tommy Robinson, hailing him as a trailblazing track star of world renown, a mentor and father-figure for successive generations of Bahamian athletes, an extraordinarily devoted patriot and, when the full measure of his life is taken, as an "icon for the ages".
Tommy was, and is, and shall forever remain all of those things and more. His fame and his name are deeply and permanently embroidered into the tapestry of our nation's proudest history.  He was one of the greats.  His legacy looms larger than his own life. His place in the annals of Bahamian history is secure.
On a personal level, let me say again that I feel the pain of Tommy's passing very deeply.  Tommy and I went way back, way, way back.  We were close friends, and confidantes to each other, over the course of many years.  Indeed our friendship spanned more than fifty years, and it continued without interruption right up to Tommy's death two Sundays ago.
What made our friendship a topic of conversation for many was that Tommy and I were on opposing sides of the political divide during a great part of our adult lives.  Indeed there was a time when Tommy was a frontline standard bearer for the opposition.  In the 1972 General Election, he ran for the FNM in what was then the Culmerville Constituency, losing out to his cousin Sir Arlington Butler of the PLP.  Five years later, at the same time that I was making my initial foray as a candidate for the PLP in the Centreville Constituency, Tommy, not far away in the Salem Constituency, was throwing his hat into the political ring for the second and final time, again unsuccessfully, as the candidate for the Bahamian Democratic Party (BDP) against David Knowles of The PLP.
But even though we had divergent partisan allegiances during the greater part of our relationship, it never ever got in the way of our friendship.
Indeed, one of the most poignant memories I have of my many years in Bahamian politics is how Tommy stood with me, unflinchingly and unapologetically, during my times of personal trial and tribulation in the political arena.  But that was the way Tommy was.  He was a friend for all seasons and for all times.  I could count on Tommy through thick and thin, in good times and in bad.  Tommy was always there.
But Tommy and I were more than just friends.  He was also my mentor and role model during my own years as an athlete, just as he would be for so many Bahamian athletes over the years.  I looked up to Tommy.  I was inspired by his successes to go in search of successes of my own.  He showed me the way.  Just as he would so unselfishly show countless others in the ensuing years, he showed me that it could be done; that we were good enough to scale the heights of international competition and conquer athletes from all over the world, from countries great and small.
Speaking for myself personally as a former athlete, I have to publicly record the debt that I owe Tommy because without his intervention I may never have been able to launch my own involvement in international competition.
But thanks to Tommy's advocacy, however, I was given the opportunity to take part in a "jump-off" to determine who would represent The Bahamas in the Triple Jump at the West Indian Federation Games in Jamaica.  As a result of that jump-off, I was added to the team for those Games. Without Tommy, I don't think that I would ever have been given that chance.
In the days that have followed Tommy's passing, it really has been so moving to hear and read the personal testimonies of so many of our sportsmen about what Tommy meant to them and to the life and times of The Bahamas.
I was particularly struck by Sir Durward Knowles's recollections of the Melbourne Games in 1956 and of the great pride he felt, as a Bahamian, to know that The Bahamas was able for the first time in Olympic history to field a delegation for track and field in the solitary person of Thomas Augustus Robinson.
I was even more moved by the interview that one of our Golden Girls, Debbie Ferguson, gave on TV on Monday past.  Fighting back tears, she recalled how Tommy had always been a guardian angel for her.  He would somehow always turn up and ride to the rescue when she and her family needed him most.
She specifically recalled the time when she couldn't get a U.S. Visa to pursue college studies because her mother didn't have any money in the bank.  They were a poor family.  And for a time, because she couldn't demonstrate that she would be able to sustain herself financially while at college, it looked like Debbie might not get a U.S. visa at all.  And without a visa, her dreams of growing into a world class track sprinter would likely shrivel up and die.
Can you imagine Debbie being deprived of the opportunity to grow her talents in the way that she was able to do?  Can you imagine Debbie not bringing home the baton when the Golden Girls won in Barcelona?  Well, it almost didn't happen. And it wouldn't have happened if Tommy hadn't  come to the rescue.  But come to the rescue he did, as Debbie tearfully reminded us all on TV last night.  Tommy made it possible for Debbie to meet the financial requirements for a U.S. visa.  And as a result, Debbie was able to go to college in the U.S. and get the best training and exposure available anywhere in the world.  And the rest, as they say, is history.
We have to remind ourselves that these things don't just happen by accident.  They happen because someone takes the time to help someone else in need.  That's what Tommy did for me back in 1960, and what he did for Debbie Ferguson almost 30 years later.
And there were so many others Tommy helped along the way, a fact that Laverne Eve, another one of our distinguished ladies from the world of international athletics, attested to during her own interview yesterday.  She, too, spoke so poignantly of how Tommy had helped her over the years as well.
Yes, Tommy Robinson was truly the great godfather of Bahamian athletes.  Indeed, for athletes of my own generation, and B.J Nottage's and Leslie Miller's, and for athletes of all the generations that followed, Tommy Robinson was the role model, the mentor-in-chief, the elder statesman of Bahamian athletics.
In looking back on Tommy's career as a track star, what I continue to find so supremely amazing is not so much what he did as WHEN he did it.  Like they describe the mission in the "Star Trek" movies: "to go where no one has ever gone before".  That was Tommy.  No one from The Bahamas had ever been able to achieve on the world stage what he managed to achieve in the world of track athletics.
He was to track what Sir Durward Knowles was for The Bahamas in international sailing; what Andre Rodgers was for Major League Baseball; what Michael "Sweet Bells" Thompson for the NBA; and what Elisha Obed would later achieve in world championship boxing.
Tommy gave our country so many uplifting memories; memories of exhilarating, triumphant moments in our life as a people.  And he did it at a time when we had few things to cheer about and even fewer things that could bring us together, black and white, rich and poor, young and old, if only for a moment, in common ecstasy over the accomplishments of one of our own.
Tommy, through his magic at sprinting events all over the world, did exactly that.  He brought us together and in so doing helped instill in us an instinctive understanding that the ties that bind us are infinitely greater than the things that divide us.
Whenever and wherever Tommy ran in the world, whether it was in Jamaica or in Cardiff or in Melbourne or in Rome or in Tokyo or in Mexico or in Canada, we all leapt for joy.  It was because, if only in part, we knew that with each stride he took, Tommy was putting us all on the map; giving all of us a deeper sense of our own possibilities both as individuals and as a people.
Of all his many glorious moments, the one that stands out the most for me, is the one that really defined and depicted the pioneer and trailblazer that Tommy Robinson was.  It was captured in the photograph of Tommy at the British Empire Games in 1958 in Cardiff, Wales during the opening ceremonies.  He was all by himself – no coach, no chef de mission, no team members, nobody at all, just Tommy, head held high, proudly carrying the flag of what was then the colony of The Bahama Islands.
Tommy would go on to win the Gold Medal at those Games in the 220 Yards event.  It was a singular moment not only for Tommy but for all us as Bahamians.
But there was even more glory to come because in the same Games, Tommy would win a silver medal in the 100 Yards event as well.
That was 1958.  The year before Tommy had already etched his name in history when he became the first Bahamian ever to win a medal in international track & field competition when he won a Bronze medal in the 100m in the West Indian Federation Games in Kingston, Jamaica.
Forgive me if I interject here that it is a matter of great personal pride for me that I would win the second medal ever for The Bahamas in international track & field competition when, in 1962, at the Central American & Caribbean Games in Jamaica, I would bring home the Bronze in the Triple Jump.
But Tommy was such an immeasurably greater athlete than all us.  There are so many firsts, so many accomplishments to the credit of his name, the details of which are too well known to require any further mention today.
Suffice it therefore to say this : Thomas Augustus Robinson will live on in memory as the greatest track athlete our country has ever produced.
It is so very fitting, therefore, that the national stadium, the centre of athletic excellence for our nation, should bear his name, now and in perpetuity.
On behalf of my wife, Bernadette, on behalf of the Bahamian people, and on my own behalf, I extend deepest condolences to Tommy's children, Tanya, Erica, Scott, and Robbie, and all the other members of Tommy's bereaved family.
I end with the words that I expressed to the nation shortly after Tommy's passing :
"THOMAS AUGUSTUS ROBINSON……WILL CONTINUE TO STAND AS A SINGULAR EXAMPLE OF THE GREATNESS THAT CAN BE ATTAINED IN ANY AREA OF HUMAN ENDEAVOUR, BE IT ATHLETIC OR OTHERWISE, WHEN NATURAL TALENT IS HARNESSED TO DISCIPLINE, COURAGE, DETERMINATION AND PATRIOTIC RESPONSIBILITY…….. TOMMY CONSISTENTLY REFLECTED THE VERY BEST OF THE NATIONAL CHARACTER AND, IN SO DOING, SET THE STANDARD FOR GENERATIONS TO COME."
May the soul of this great Bahamian, the hero of my youth, my friend and mentor, rest in peace, now and forever more.
___