ABACO, Bahamas – Remarks of Prime Minister the Right Honourable Perry G. Christie, M.P. at Baker's Bay Golf and Ocean Club on November 19, 2012: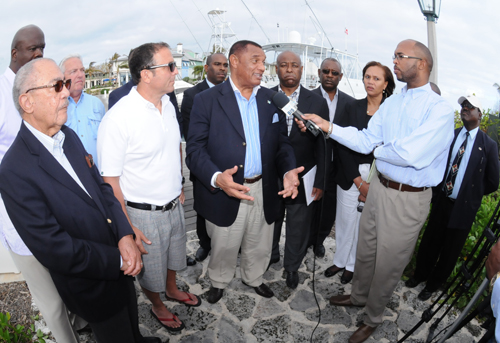 I am most delighted to be in Abaco again, so soon after the great victory which the good people of North Abaco gave to my Progressive Liberal Party Government in the recent By-election, in returning Mr. Renardo Curry as your new Member of Parliament.  I am so pleased to have him in my delegation today, not only as your Member of Parliament, but as Parliamentary Secretary in the Office of the Prime Minister with responsibility for all of Abaco, based on this dynamic island with its vast potential for further development.
I have come today to recognise and acknowledge the important investment and accomplishments of the visionary developers of this magnificent Baker's Bay Golf and Ocean Club.  It gives me a real sense of satisfaction to have attracted this stellar project to The Bahamas during my first term in office, and sealed a Heads of Agreement which has resulted in the creation of a high end anchor project in Abaco, which serves as a shining model of the vision and strategy which I have espoused for tourism and economic growth, that would also result in enormous spinoff and multiplier effect on locally owned small and medium size businesses, thereby creating numerous  entrepreneurial, employment, and various other opportunities throughout our far flung Family Islands.
Mr. Michael Meldman, Chairman and CEO, his partners and homeowners are to be congratulated for having created one of the most environmentally
sensitive and sustainable developments in the Caribbean.  While creating a viable and very attractive product, these investors have raised the profile of The Bahamas by creating a community that attracts North Americans, Europeans and other international financial, entertainment and business leaders to live and play with their families and friends.  At the same time Baker's Bay is a family operation where employees and management work together to create memories for residence and staff.  The development itself reflects authentic Bahamian architecture, arts and a lifestyle which reflects these idyllic and luxurious surroundings.
The economic impact reveals an investment to date of some $385 million and 406 Bahamian employees.  The developers are now planning for the next ten years and are in dialogue with the Government regarding considerable expansion which will benefit both the project and the local community.  I am advised that Baker's Bay Golf & Ocean Club is already a viable entity and will attract an investment of $2 billion over the life of the project.  Baker's Bay projects that it will over the next 10 years contribute over $450 million to the Public Treasury by way of import duty, transfer, stamp, and property taxes.
We can reasonably expect that the economic impact of this development, will reach well beyond its borders, as homeowners, yachtsmen and visitors to this luxury resort community, also invest elsewhere in The Abacos and in the remainder of The Bahamas.
As the Discovery Land Company has done in various parts of the United States, I feel this is an appropriate occasion for me to invite Chairman Meldman and his partners, to consider expanding their investments to other attractive sites in The Bahamas.  It is developments like Baker's Bay that add to the lustre of our tourism product and which deliver on our well branded slogan, It's Better in The Bahamas.
Again thank you for inviting me and my colleagues here today.  May you grow from strength to strength.