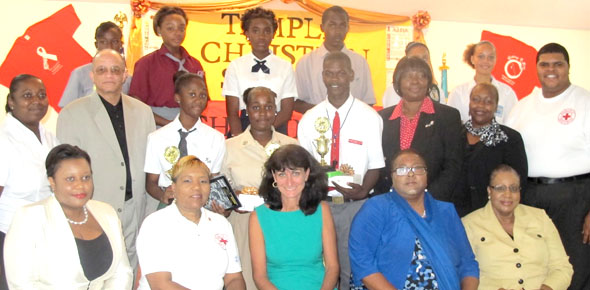 On Friday, November 16, Temple Christian High School the Bahamas Red Cross co-sponsored a national speech competition focused on HIV/AIDS prevention at the Bahamas Red Cross headquarters on John F. Kennedy Drive that attracted talented high school students from throughout New Providence and four Family Islands who are committed to ended the spread of HIV and AIDS. The effort was spearheaded by a teacher at Temple Christian, Ms. Claudette Thompson, as part of the school's ongoing HIV/AIDS education initiatives. The speech competition was made possible through the U.S. President's Emergency Plan for AIDS Relief's (PEPFAR) small grants program.
PEPFAR is a worldwide program launched in 2003 to reduce the incidence and limit the spread of HIV/AIDS, while also assisting those who have contracted the disease.  PEPFAR represents the largest commitment in history made by a nation to a single disease.  While addressing the opening of the speech competition, the U.S. Embassy's Acting Deputy Chief of Mission, Alex Sokoloff encouraged the young people who participated in the competition to continue educating their peers and to develop community action plans to raise awareness and stop the spread of HIV in The Bahamas.
"It is youth leaders like you that can and will make a difference," Mr. Sokoloff said. "It is through you that thoughts and ideas become words, and words become actions that change the world for the better."
The U.S. Embassy's Economic Officer Sally Sternal, Genevieve Richards, Ministry of Education, Romona Farquharson-Seymour, Attorney at Law and Denise Roker of The Bahamas Red Cross Caribbean HIV-AIDS Project (CHAPS) served as the judges for the contest. After the judges evaluated the submissions, they selected the top ten students to advance to a final round, before deciding on the winner of the Inter-School public speaking competition.
After the thought-provoking and insightful speeches were presented, Lonnell Sweeting, a student at the Temple Christian High School was declared the winner of Temple Christian High School/Bahamas Red Cross National Youth HIV/AIDS awareness speech contest. Travis Robinson of C.R. Walker High finished second and Rameka Rolle, a student at Kingsway Academy finished third.
Captions:
Photo 1: Top three winners of the Temple Christian High School/Bahamas Red Cross National Youth HIV/AIDS awareness speech contest. From left: Third place winner, Rameka Rolle; first place winner, Lonnell Sweeting and second place winner, Travis Robinson.
Photo 2: Coordinators of the Temple Christian High School/Bahamas Red Cross national speech contest with the overall winners and judges for the competition.