Christie's Viceroy – Philip Brave Davis to act as PM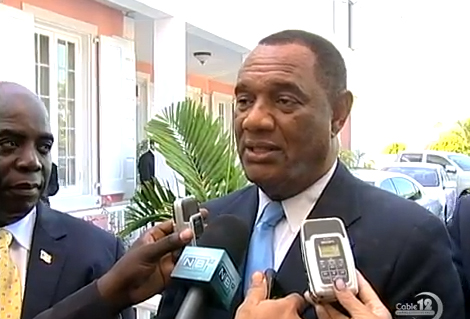 Prime Minister Christie leads a high level ministerial delegation to the Twenty-fourth Inter-Sessional Meetings of the Committee of Heads of Government of the Caribbean Community (CARICOM) to be held in the Haitian capital, Port-Au-Prince on 18th and 19th of February 2013.
Accompanying the Prime Minister are National Security Minister, the Hon. Dr. Bernard J. Nottage; Foreign Affairs and Immigration Minister, the Hon. Fred Mitchell; Financial Services Minister, Hon. Ryan Pinder and CARICOM Ambassador HE Picewell Forbes.
Mr. Clifford Scavella, Director of the National Intelligence Agency, Foreign Affairs Officers and ministry aides round out the delegation.
High on the agenda is regional security and according to Minister Nottage, the Community is seeking to formulate a regional strategy to combat transnational crimes such as trafficking of firearms, illegal narcotics and humans in addition to human smuggling.
"CARICOM is concerned about National Security and law enforcement issues and their development of corporate strategies between its members in their approaches to various National Security issues" said Minister Nottage.
The National Security Minister continued that the Prime Minister of Trinidad and Tobago is the head on all National Security matters for CARICOM. As the chairman of the CARICOM Council of National Security Ministers, Dr. Nottage explained that his council is charged with reviewing the whole question of National Security in CARICOM countries "and make certain recommendations about…common strategies that can be adopted to fight all the various crimes related to gangs, drug shipment and human smuggling."
Dr. Nottage confirmed that the Attorney General of the United States, Mr. Eric Holder, has been invited by CARICOM to address Member States on regional national security issues on Monday, the 18th. Additionally, the Minister said that "those of us who are National Security Ministers expect to have a discussion with him on matters related to (the) United States and national security (as it relates to) CARICOM countries."
The delegation is expected back in the capital by Wednesday.