Christie: Freeport will continue to get better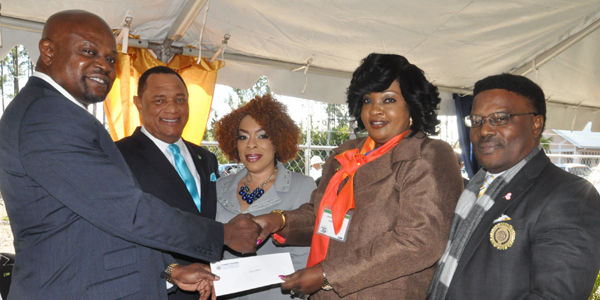 By Robyn Adderley
Bahamas Information Services
FREEPORT, Grand Bahama — Prime Minister of The Bahamas, the Rt. Hon. Perry G. Christie on Thursday commended Freeport Insurance Agents & Brokers Limited owners for opening a new business in Freeport, despite the nay sayers.
The Prime Minister gave the keynote address during the office's official opening ceremony at their 25B West Mall Drive location.
After congratulating Lawrence Palmer, Donald Ward and Deborah Knowles for opening their new business, he said, "I want you know, you made the right decision at the right time.
"I also want you to know that the backing you have in this company here, they would have thought about what they were doing."
The Prime Minister commended them on their confidence and drive to do well, and added he felt the economy of Freeport will continue to get better. He said when told 100 rooms in Lighthouse Point had to be opened to accommodate people coming to Grand Bahama, and that they are booked for several months, it was a good feeling "because it represents the shift that is taking place in the country."
He continued, "what you are doing today represents a defining decision of young Bahamians to make a commitment."
From the support received at the opening, said Prime Minister Christie, the business will only get bigger and better. "We really are proud of you, and wish you the very best in your endeavours," the Prime Minister concluded.
Also addressing the opening was Minister for Grand Bahama, the Hon. Dr. Michael Darville, who also congratulated  the new owners, saying it was a pleasure to be there as the government was doing its part in encouraging entrepreneurial opportunities.
"This is all due to an aggressive programme that's been put in place by the Prime Minister of the Commonwealth of The Bahamas. He is here today to be a part of this, and I understand that it is an investment of $250,000 that would have been injected into the local economy, it has created five new jobs for Grand Bahamians."
Present at the event were: Minister of Tourism, the Hon. Obie Wilchcombe;  Minister of State for Investments the Hon. Khaalis Rolle; Kevin Seymour, president of the Grand Bahama Chamber of Commerce; and K. Peter Turnquest, deputy leader of the Free National Movement and MP for East Grand Bahama.