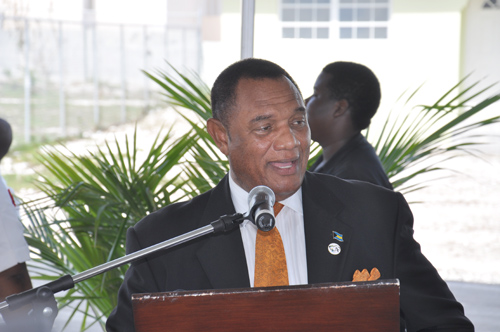 Remarks
Rt. Hon. Perry Christie
Prime Minister
Commonwealth of The Bahamas
Opening of Sir Clement and Julian Maynard Estates
8th July 2013
This afternoon, Arawak Homes opens another family neighbourhood, named in honour of Sir Clement Maynard and his son Julian Maynard. Over the years, Arawak Homes have opened several estates like this one, always choosing to honour Bahamians who have made contributions in various areas of Bahamian life. Dame Doris Johnson has been recognised for her contributions to the suffragette movement; Freddie Munnings for dedicating his life to making Bahamian music and being an entertainer; Commissioner Gerald Bartlett for faithful service to the Royal Bahamas Police Force; Sir Lynden Pindling for his many contributions as "Father of The Nation".
This is the first estate to be named in honour of two people and is done for specific reasons. One reason is to highlight that change, that working to make a difference in your country is a multi-generational process; it is a family affair. Sir Clement is well known throughout our country for his political activism and ultimately for his key role in the new Commonwealth of The Bahamas. He has the distinction of being the longest serving Minister of Tourism and in many ways, laid and built upon the foundations of modern Bahamian tourism.
However, he was also a father of five children, who have all, in some way great or small, dedicated themselves to continuing their father's work and being, in their own right, great Bahamians. Most notably, his daughter Allyson Maynard-Gibson is currently serving as the Attorney General. Naming this estate after Sir Clement and his son, Julian puts focus on families.
In the most immediate instance, it highlights that there will be families living here; that these buildings are not just houses – they will become homes. Children, will play in these neighbourhood streets and make lasting friendships and memories. Parents will have a secure nest for their children – they will help to make this neighbourhood a community.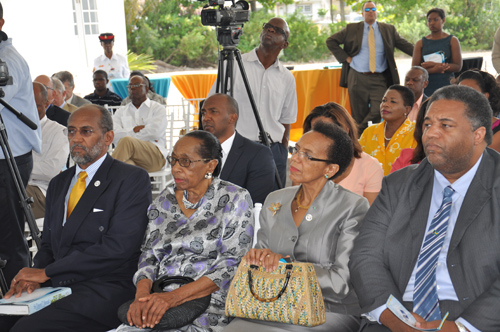 We celebrate our country's 40th Anniversary of Independence under the theme "The Bridge to The Future… The Journey Continues." Parents are often the bridge that connects the work and philosophies of one generation to the next. Certainly Sir Clement was a bridge for his children. Maintaining our journey on a path of excellence requires joint ventures; parents must lead the way for children to be equally successful in driving our country forward, upward and onward.
The Government has also made a commitment to ensuring that citizens have access to affordable housing. We are working on increasing the quantity of land available for affordable housing by the use of The Acquisitions of Land Act for the purchase of vacant and abandoned land in historically populated areas, where infrastructure already exists.
We will also reduce the cost of housing construction by a thorough review of the building code and related regulations to provide a better balance between costs and safety. The Government will also work with the private sector to provide crown land for the development of new communities with affordable houses and green spaces.
I congratulate Arawak Homes on, yet again, creating an estate that provides quality homes for Bahamian families and encourages those living within its boundaries to more closely examine the life and work of Sir Clement Maynard and his son Julian Maynard. To the Maynard family, this is indeed an honour and yet another way that your father's and brother's legacies will be lifted up and remembered by all.
Thank you.