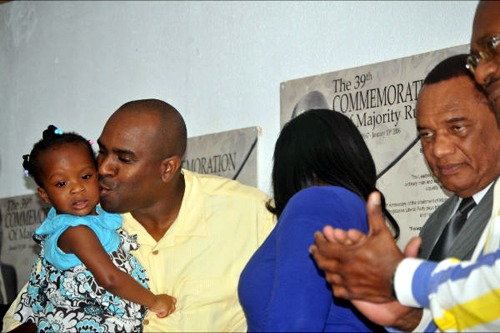 Press Statement By
Bradley B. Roberts National Chairman
Progressive Liberal Party
Renaldo Curry will be elected the next MP for North Abaco
July 30th 2012
Hubert A Ingraham, MP for North Abaco, former Prime Minister of The Bahamas and former leader of the Free National Movement announced that effective 31st August 2012 he would resign his seat in the House of Assembly after 35 years thereby causing a by-election to be held within 60 days.
When Ingraham was elected Prime Minister in 1992 he fortuitously promised the nation that he would only seek to hold the office of Prime Minister for a maximum of two terms. After his two terms, he put on a retirement show that was essentially a farce, complete with a staged leadership race for Tommy Turnquest and Dion Foulkes to assume control of the FNM Party. Even with Tommy Turnquest as the official leader of the FNM – Mr. Ingraham refused to relinquish the Prime Minister mantel to him and the FNM Party was subsequently defeated in the May 2nd 2002 General Elections by Perry G. Christie and the Progressive Liberal Party.
Following the 2002 defeat at the polls, like a chameleon, Hubert Ingraham only appeared long enough in the House of Assembly to slip in, sign in and slink out. He never participated in any national debate or contributed to anything until infamously 'blind-siding' Tommy Turnquest to become leader of the Opposition in late 2006. During this time and even up to the hours before his betrayal of Turnquest, he repeatedly told the public that he had no interest in seeking to become Prime Minister again.
Despite the very strong economy built by Perry G. Christie led PLP Government during 2002-2007, Hubert A Ingraham became Prime Minister for the third time and the country suffered. During his last administration, the economy of the Bahamas declined rapidly, despite hundreds of millions of dollars being pumped into projects from $1.9 billion borrowed and nearly $500 million collected by the public treasury from one-offs and the sale of BTC. Mr. Ingraham was a bad Minister of Finance and a poor manager of the people's money. Sadly, under the watch of Hubert Ingraham and the FNM, only a few Bahamians benefitted from the largesse of his policies and his government generally failed to put Bahamians first.
The reality of May 2012 is only now hitting the former Prime Minister as he is now being forced to accept that Bahamians from all walks of life have soundly rejected his out of touch leadership style and the failed foolish policies of his 'one man band' FNM Government. Even after announcing in the immediate aftermath of his government's resounding defeat at the polls that he would resign as MP for North Abaco – he played around with the dates – like a jilted lover crying for attention. This comes as no surprise as his record of double talk, dating back to his infamous 'two term' promise, clearly showed that Hubert Ingraham's leadership succession plan only included Hubert Ingraham and Hubert Ingraham. This behavior reflects his selfish ambition and arrogance, stoked by the sycophantic exhortations of his close circle of friends, to be Prime Minister for life. This placed him out of touch with the political realities around him or as we say, "on the ground." The current FNM leader admitted that much about the FNM government.
The paltry number of applicants for the candidacy of the North Abaco seat on the FNM ticket clearly speaks for itself. This notable lack of interest in a seat held by Hubert Ingraham for 35 years is sadly a reflection of the fact that not many 'right thinking' persons actually believe he is going for good. It is no secret that Hubert Ingraham, who held on to political power through tactics of fear and intimidation in addition to "divide and conquer" was fully out of touch with the young people of North Abaco. Many of the young voters did not know and never got to know Hubert Ingraham the man. Hubert simply did not have the time for nor the interest in the young people of his constituency, as he simply took them for granted.
For his tactics, Hubert Ingraham came to be known as the "drive by and hail" Member of Parliament for North Abaco.
Now it appears that this is 2002 revisited, as Hubert Ingraham in his infinite wisdom is seeking to hand his seat to political newcomer and unknown Greg Gomez. To facilitate this, Mr. Ingraham has to delay his resignation to accommodate Mr. Gomez' residential requirement, as this gentleman has resided outside of the country for the past ten years.
This should be unbelievable and unthinkable coming from Mr. Ingraham but it is not. We wish to remind Mr. Gomez that history normally repeats itself, as we look at how he made Tommy Turnquest the FNM leader for four years, before he betrayed him in front of his family, friends and the entire nation. Mr. Gomez will not suffer this fate because Renardo Curry, the PLP standard bearer for North Abaco, will win the North Abaco seat.
Mr. Renardo Curry is a fine and accomplished son of the soil. He is articulate, well-grounded and courageous to take on any challenge because he is a proven champion of his people. He understands his constituency, island and country. Further, he knows what is at stake and what is needed to restore the fortunes of our great country, settlement by settlement and constituency by constituency. He has already courageously taken the former Prime Minister to task, as he almost upset his bid to retain his seat. The only saving factor for Hubert Ingraham was the FNM's last minute manipulation of the fifty-two week jobs program and the millions of dollars pumped into the Jump Start Program in North Abaco.
We in the Progressive Liberal Party are obliged to ask Hubert Ingraham and Dr. Hubert Minnis to tell Bahamians about Greg Gomez? Where can Bahamians find his bio, as the Free National Movement Party has failed to provide the same? Where has Mr. Gomez lived these past ten years and who were his employers? Was he legally domiciled in the USA and has he applied for United States Citizenship?
These are important questions that are in the public's best interest for the Free National Movement to answer as Bahamians deserve the respect of transparency to accurately assess Mr. Gomez's suitability for high public office in The Bahamas. For example, if the record shows that Mr. Gomez recently applied to United States citizenship and was awaiting approval, this piece of information would greatly assist the voters in North Abaco in determining whether or not Mr. Gomez has national loyalty to and natural love for The Bahamas or is a creature of personal and political convenience.
The veritable answers to these all important questions are in the hands of the FNM and it is in the public's interest for them to come clean.
Heading into this bye-election cycle, Bahamians, especially North Abaconians, need to know.