PM Christie must put a stop to the fraud set to take place by 10 elite athletes and their doctors. THEY MUST BE ALLOWED TO JOIN THE TEAM IN LONDON!

Ten Elite Bahamian Athletes Failed to Show Fitness at National and is attempting to get on the Bahamas Olympic Team through the back door – LONDON IS WATCHING!!!
Nassau, Bahamas — Bahamas Press is calling on the Christie Government to step in and avoid an international embarrassment for the Bahamas at the 2012 Olympic Games in London.
Sources deep in the know tell us the embarrassment could come following a scandalous attempt to place some 10 elite athletes from the Bahamas are attempting to get on through the back door on the Bahamas Olympic team; all of whom failed to appear at the Nationals last weekend.
Team United States of America and Team Jamaica, along with many countries around the world, have held their Nationals and have crowned the winners, logging in their times at their respective Nationals for submission into the World Olympic Committee body.
But here in The Bahamas this is not the case. We can confirm there is a bold attempt to slip those ten "none performing" elite athletes through the back door and hold a private fitness event for them this week. But this is NOT THE OLYMPIC Committee's standard!
Failing to appear at the Nationals and failing to show fitness at that event automatically disqualifies an athlete from Olympic competition and could cause a suspension of the entire team in London!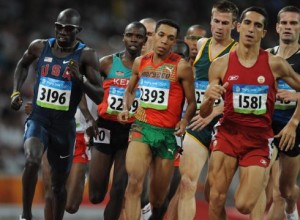 And what makes this debacle so bad is the fact that all the elite athletes are on subvention from the government, yet they failed to appear at the Nationals to prove they still deserve to receive that subvention.
WHAT IN THE HELL IS THIS! IT IS UNBELIEVABLE!!!

And so we 'ga' say it again to the local sports body here: Stop ya [S***]! Save the Bahamas the national embarrassment and drop every athlete who failed to appear at the Nationals last weekend.
What is worse is that doctors signed these medical letters telling the sports body hosting the event that these 10 athletes could not compete last weekend due to lack of fitness. BP needs to expose these doctors who aided this fraud!
What a scene that would be to have the Minister and wife in London, the Prime Minister and his wife in London, and the Governor General and his wife in London, all to hear the Bahamas present on its team persons who cannot show or failed to prove their fitness to the Olympic Committee at its National event?
We ga say it again to the Rt. Hon. Prime Minister and his Minister: step in and save the Bahamas International Embarrassment!
FIX IT and stop the fraud.
We report yinner decide!