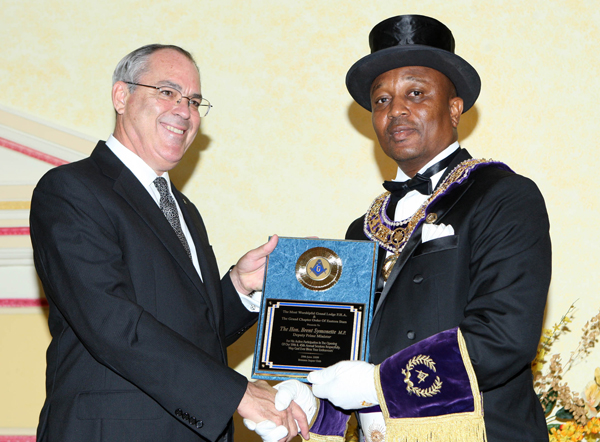 Past Grand Master Carl Culmer has not learned his recent lesson of being slapped in his face legally by expelled lodge member, Geno Nairn. The former Grand Master and his cousin, the new Grand Master Sanford Culmer, has kicked out Kwame Ryan, Worshipful Master of Columbus #16, because Ryan refused to bow to Tyrant Culmer and his demands.
During the recent Grand Sessions of the once historic, now disgraced, Masonic Order, Grand Master, Sanford Culmer, announced that Ryan was no longer the Worshipful Master of Columbus Lodge #16 and appointed Junkanoo Dancer, Fast Eddie, to sit in that position. BP understands that when the announcement of who was taking over the lodge was made the entire ballroom where the sessions were being held, exploded into laughter. The Masons could not believe their ears and the sisters of the lodge walked out to laugh. Why wasn't one of the Good Masons asked to sit in that position and why was the Worshipful Master, who did a good job, removed from his post in the first place?
BP tried to rush to the sessions to see what the commotion was about, but the suit could not fit as we have gained weight from drinking beers and eating while listening to the madness taking place in Prince Hall Lodge. BP did not have to go as news in that Lodge travels fast. BP learned that due to our last story, which received almost a hundred thousand hits from all over the world, the Prince Hall slackers and their cronies caught feelings and say they putting lawyers and police on BP. Well we will say this much, when you come looking for BP make sure you can prove the things said here are not true and know that we will open the closet door and unleash all of the skeletons held within and some a yinna have plenty skeleton – da marijuana smokers, da nigga haters, da undercover, wicked, political hacks, the naked pictures, da switch-hitting sissy, little, brother etc. Its too much duttyness for us to list off but we have our proof in hand, we hope yinna have yourns.
BP was also told that instead of playing dead and licking its wounds, the Grand Lodge Officers of Prince Hall Lodge are appealing the recent ruling by the Supreme Court that expelled brother, Geno Nairn should not have been expelled. Carl Culmer is insisting that Nairn be kept out of Prince Hall along with all the other brothers he kicked out. This man must be crazy as he insists on destroying the Order with his pettiness all the while having his own issues he needs to concentrate on like, why did BTC fire him and have him unemployed. Culmer seems confused about what is priority and needs to be fixed in the Order.
Good Masons are standing on the sidelines watching this scandalous mess unfold. Da Tief, Rabbie Johnson is still in charge of Royal Eagle Lodge, spreading his "joy" all over the place. Love sick, "I Fa Tanya" Former Worshipful Master, Juan Bethel and the rude, biggetty, spoiled brat, Tanya Cartwright are still allowed to openly sweetheart each other while others were expelled from the Order for doing the same thing. Brothers no longer bring their spouses to fundraising events, but boldly bring their sweethearts and it is accepted by the Order.
Masons around the world have contacted BP and expressed the need to distance themselves from Prince Hall Lodge, Bahamas.
We Report! Yinna Decide! So Mote it Be!