We told yall put the Dame in Government House and watch the Royals return!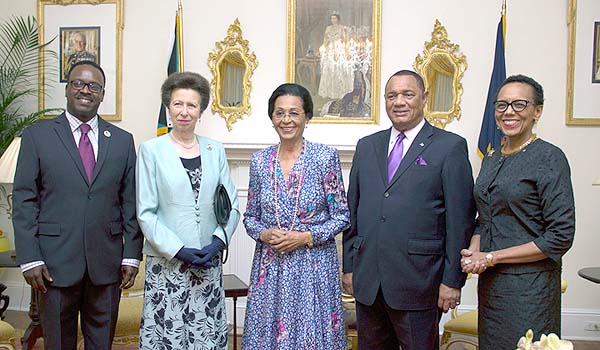 Nassau, New Providence — The Princess Royal, Princess Anne, arrived in Nassau on Sunday, September 27th and was greeted by the Prime Minister, the Rt. Hon. Perry G. Christie, and the Governor General, H.E. Dame Marguerite Pindling.
Her royal Highness is also the president of the Caribbean-Canada Emerging Leaders' Dialogue (CCELD) and is in the country for a CCELD 2015 Bahamas Study Tour before joining others from 21 countries for the start of the Dialogue in Ottawa.
The CCELD is an intensive two-week in-field leadership development experience which takes place every four years. It broadens perspectives and improves decision-making practices for the high-calibre, mid-career men and women selected from business, government, labour and civil society, from across the Caribbean and Canada who participate. Addressing the leadership crisis gap, the in-field experience of the CCELD creates opportunities for emerging leaders to gain new skill sets in the moment.
The CCELD builds on the existing strong bonds between Caribbean countries and Canada and its lineage traces back to the Duke of Edinburgh's Commonwealth Study Conference, whose unique model has proven successful for thousands of emerging leaders, including more than 3,000 Canadians since 1956.
Last Saturday, three young ladies left Nassau on Air Canada to jThey are Ruthann Rolle of the Ministry of Tourism, Royann Dean of Baha Mar and Keithra Morley, Founder of the Boys & Girls Club (Bahamas).
Additionally, The Bahamas will be receiving a group of twelve individuals drawn from cities in Canada and across the Caribbean who will participate in a Study Tour, visiting various communities, workplaces and institutions under the theme: "Leading through Innovation and Transformation."
CCELD Alumni include: Gershan Major, Lindsay Thompson, Terry Miller. Tara Cooper Burnside, Philip Simon and Stephen Thompson.